Our Brand Is Crisis
(2005)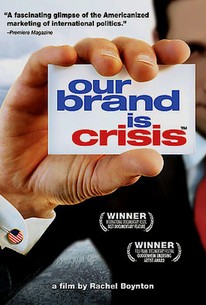 Our Brand Is Crisis Photos
Movie Info
An adventure following James Carville and a team of U.S. political consultants as they travel to South America to help Gonzalo Sanchez de Lozada (a.k.a. 'Goni') become president of Bolivia. Goni, is seen by his American strategists as a progressive idealist trying to liberalize business practices and strengthen democracy. However, to many Bolivians, he is a Clintonesque neo-liberal allied too closely with the U.S. With little chance of re-election. Starting with a country in upheaval, we see bloody riots break out in the streets of La Paz, with people throwing stones at the presidential palace as they call for the government's downfall. Flashing back a year, we begin to see the events that led to the bloody tragedy. Goni is on the campaign trail, promising to solve Bolivia's devastating economic crisis if he is elected. Behind the scenes are Jeremy Rosner, Tad Devine, and others from the Greenberg Carville Shrum firm, the American advertising experts hired to sell Goni to the people. With unprecedented access to situations that occur all the time in the United States, but which we're never allowed to see, the chronicle follows detailed media coaching with the candidate, secret focus groups, and emergency ad-making sessions that alter the message to fit the moment. Following the journey to its surprising finish, it is a story for our time about Americans trying to spread democracy overseas.
News & Interviews for Our Brand Is Crisis
Critic Reviews for Our Brand Is Crisis
Audience Reviews for Our Brand Is Crisis
Impressively insightful doc about political strategy and its consequences.
William Goss
Super Reviewer
[font=Century Gothic]"Our Brand is Crisis" is a documentary about the 2002 Bolivian Presidential Elections. At this point, Bolivia is a poor desperate country with a huge resource of natural gas waiting to be tapped. Along with ten other candidates, former president Gonzalo Sanchez de Lozado(Goni) is running as a reform candidate while being advised by the American consulting firm - Greenberg, Carville, Shrum.[/font] [font=Century Gothic][/font] [font=Century Gothic]What the documentary presents is an insightful case study as to why Democracy without listening to the people will not work, especially in such an impoverished country.(Goni is much wealthier than most of his constituents. And his campaign does seem to be out of touch with the ordinary citizen.) And bringing in American consultants, while armed with a basic history of the country but not familiar with the day-to-day details, is a large mistake.(How much time do the consultants spend with the average Bolivian?)[/font] [font=Century Gothic][/font] [font=Century Gothic]If the movie has a flaw, it is that it grossly underestimates the appeal of Evo Morales. Simply put, there comes a time when reform is not enough and something more radical is required.[/font] [font=Century Gothic][/font] [font=Century Gothic]James Carville missed his calling as a stand-up comedian. At least, then he could have done less harm...[/font] [font=Century Gothic] [/font]
Our Brand Is Crisis Quotes
There are no approved quotes yet for this movie.