Paleface
(1922)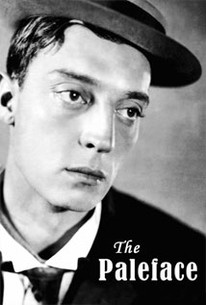 AUDIENCE SCORE
Critic Consensus: No consensus yet.
Movie Info
Buster Keaton stars in this two-reel comedy as the captive of hostile Indians. His captors tie him to a stake and prepare him for death by fire. Keaton moves with the stake as the Indians try frantically to place the firewood around him. When he survives the flames due to his fire-resistant clothes, Keaton is made a member of the tribe and named Little Chief Paleface. He then foils the scheme of unsavory oil speculators to steal the land from his Indian companions.
Critic Reviews for Paleface
Audience Reviews for Paleface
½
Not as impressive as most of Keaton's films and not as many quirky funny moments.
Lady D'arbanville
Super Reviewer
Another Buster Keaton short running at 20 minutes, "The Paleface" is about Buster winding up becoming an Indian tribe member when he is burned at the stake by the Indians (mad that the white man is stealing their land) but Buster's clothes are fire-resistant and thus he is viewed as a member from then on. The film, while having several various sight gags, is more story oriented and less frantic then most of his other shorts. While it's not one of the masterpieces it's still a funny short and the ending is laugh out loud hilarious!
Chris Browning
Super Reviewer
Not one of Keaton's best, though it's fun to pretend Kevin Costner ripped it off for "Dances with Wolves." Keaton is a butterfly hunter who stumbles onto disputed Indian territory. Furious at the white man's demands, the Indians focus their rage on Keaton -- who is initially oblivious to his dire situation. After far-fetched circumstances convince the awestruck Indians that Keaton has supernatural powers, they bring him into their tribe. And he ends up helping to turn away the greedy land-grabbers. The gags are not particularly inspired, and racial content in old films is always a bit of a cringe. Also, there are some geographical details that seem inconsistent. Like how Keaton is "trapped" with the Indians behind a single gate, but then has acres and acres to run in other directions. A rolling fall down a huge hill seems to require only a quick scramble to reverse. The locations don't quite gel. The film's length is 20 minutes, rather than two as listed above.
Eric Broome
Super Reviewer
Paleface Quotes
There are no approved quotes yet for this movie.