Phone Booth
(2003)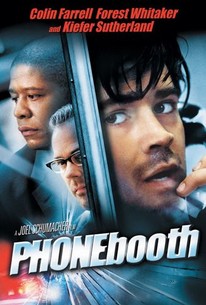 Movie Info
One man's life is thrown into turmoil by picking up a telephone in this claustrophobic thriller. Stu Shepard (Colin Farrell) is a brash, cynical, and self-centered public relations man who juggles a busy career with both a wife, Kelly (Radha Mitchell), and a mistress, Pamela (Katie Holmes). Stu steps into a phone booth on a busy New York street to make a call to Pamela without Kelly being the wiser, but as soon as Stu hangs up, the phone begins to ring. Curious, Stu picks it up -- and a stranger on the other end (voice of Kiefer Sutherland) informs him that if he hangs up the phone, he'll be shot. The red dot of an infrared rifle scope convinces Stu that the caller means business, and when another man tries to make his way into the booth, he's shot mere inches from Stu, calling the attention of the police. Captain Ramey (Forest Whitaker) naturally assumes that Stu was the killer, as Stu struggles to find a way to convince the police of what's happening before more lives are lost, without leaving the booth and putting his own life on the line. At one time proposed as a vehicle for Jim Carrey, Phone Booth was directed by Joel Schumacher, from a screenplay by exploitation icon Larry Cohen. ~ Mark Deming, Rovi
People Who Like this movie also like
News & Interviews for Phone Booth
Critic Reviews for Phone Booth
Audience Reviews for Phone Booth
½
Joel Schumacher gets the most out of a telephone call with Phone Booth.
It's a simple title for the movie and it's backed by a simple story. The plot details are straightforward, thus creating a picture that is easy to follow and make sense of. There is only so much to do with a film that takes place in a single phone booth 90% of the time, but this picture makes the most of it with an intriguing concept behind the phone call.
Most of the R-rated material is in the language, without much in the way of violence or action, which this film doesn't need since it thrives off of its thrills and suspense.
Colin Farrell proves to be a solid choice for the call recipient, while the voice-work of Kiefer Sutherland is absolutely fantastic. Forest Whitaker steps in with a nice supporting role.
With only a 75 minute run-time, Phone Booth uses its time well. Recommendable.
This is exhibit I can't remember which letter in the case for why Joel Schumacher is at his best when given smaller efforts with lower budgets. Filmed mostly in one location and predominately in real-time, this is the tense and gripping tale of a really douchey, cynical, self-centered, and arrogant publicist named Stu held hostage in a phone booth by a menacing sniper. Communicating through the booth's phone, Stu is informed that if he hangs up, leaves the booth, he will be shot. Anyone who tries to interfere and use the booth or phone will likewise be shot. Well, long story short, one of those thigns happens, and when the cops get involved, Stu finds himself not only having to deal with the sniper, but the cops too. This is a really tense and suspenseful film. It apparently had origins going back to Hitchcock, and I can see that. The film actually does have a purpose with the sniper and Stu, but I'm not sure if I really want to reveal all of that. I will say that the results are quite satisfying, though. Since Colin Farrell
Chris Weber
Super Reviewer
Phone Booth Quotes
| | |
| --- | --- |
| The Caller: | Isn't it funny? You hear a phone ring and it could be anybody. But ringing phone has to be answered, doesn't it? |
Discussion Forum
Discuss Phone Booth on our Movie forum!