Play It Again, Sam
(1972)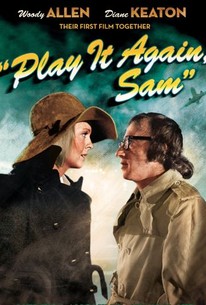 Play It Again, Sam Photos
Movie Info
Herbert Ross directed this adaptation of Woody Allen's hit Broadway play concerning a shy film critic who has trouble with women. Woody Allen plays Allan Felix, a writer for Film Quarterly consumed by movies, particularly his favorite film of all time, Casablanca. At the start of the film, Allan's wife Nancy (Susan Anspach) has just left him and is applying for a divorce. Unable to deal with this emotional turmoil, Allan seeks solace in the movies he loves, imagining Humphrey Bogart (Jerry Lacy) has dropped by his apartment to offer Allan advice on dealing with the ladies ("Dames are simple. I never met one that didn't understand a slap in the mouth or a slug from a forty-five"). Helping Allan meet new women are his good friends Dick (Tony Roberts) and Linda Christie (Diane Keaton). Dick and Linda fix him up with a succession of dates, all of which end disastrously because of Allan's nervousness and insecurity. Finally, Allan realizes that he has been spending more time with Linda than anyone else and he is becoming attracted to her -- she's the only woman he truly feels comfortable around. Linda proves unexpectedly receptive to Allan's advances, since Dick's workaholic ways leave Linda neglected and ignored.
Critic Reviews for Play It Again, Sam
Audience Reviews for Play It Again, Sam
Woody Allen in a film (based on his hit Broadway play) about a guy who loves film but cannot reconcile the differences between reel life and real life. His wife has just left him and he can't seem to get a break insofar as a new relationship goes, but he does get advice - from film - well, from the Bogart he wishes he were. By the end the whole piece seems merely a contrivance that allows Woody the opportunity to recite those iconic words from the end of Casablanca and little more than that.
Kevin M. Williams
Super Reviewer
A brilliant character study with annoying but loveable characters. At times slow, but overall very sweet, humble and affecting.
Sophie Burgess
Super Reviewer
½
A neurotic film critic with an obsession with Bogart is divorced by his wife and so spends all of his time with friends who unsuccessfully try to set him up with a variety of women. A long, long time ago (we're talking geological time scales here), before he became a morally suspect and unbearably pretentious narcissist, Woody Allen was a very funny man. Play It Again, Sam is easily his most charming and funny film in my opinion, using the simple premise of a terminally self-conscious guy who has to come to terms with the ups and downs of the dating scene while comparing the celluloid image of "masculinity" with its realities. Its genuinely witty script is full of really nicely observed comedy and very funny one liners and makes me wonder how it all went wrong. I really enjoyed this film and considering my personal loathing of the man, that's quite a statement.
Play It Again, Sam Quotes
| | |
| --- | --- |
| Dick: | The two of you should get married and move into a hospital. |
| | |
| --- | --- |
| Linda: | You're not going to leave all those books lying around open? |
| Allan: | Why not? It creates an image. |
| Linda: | But Allan, you don't need an image. |
| Allan: | Ooo, I have the perfect thing. My 100 yard dash medal. |
| Linda: | Oh you're joking! You aren't going to leave out a track medal? |
| Allan: | Why not? I paid twenty dollars for it! |
| | |
| --- | --- |
| Bogart: | Nothing a bit of bourbon and soda wouldn't fix. |
| | |
| --- | --- |
| Linda: | I managed to fool one girl into loving me, and now she is gone |
| Linda: | I managed to fool one girl into loving me and now she's gone. |