Please Vote for Me
(2007)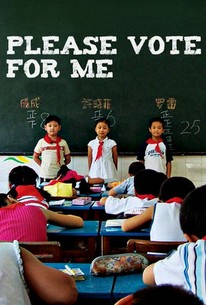 AUDIENCE SCORE
Critic Consensus: No consensus yet.
Movie Info
While China remains the largest Communist state in the world, the nation does have one sanctuary for free and open democracy -- grade schools, where class officers are chosen through elections just as they are in the United States. Filmmaker Weijun Chen offers a witty and telling look at a political campaign in one Chinese elementary school in the documentary Please Vote for Me. Evergreen Primary School is located in the Chinese city of Wuhan, and the third-grade class is being asked to choose between three candidates for the position of Class Monitor, who will help the teacher maintain order in the classroom and keep an eye on his or her fellow students. The children -- two boys and a girl -- who are running for office take this election very seriously, and use all manner of schemes to win votes, from lobbying among their friends to heckling the speeches of the other candidates. In newly prosperous Wuhan, many of the students at Evergreen Primary are only children, and their parents take no small amount of interest in their youngsters' precocious interest in the political system, using their own means to sway votes toward their offspring. Please Vote for Me received its North American premiere at the 2007 SilverDocs Film Festival, a festival for documentary cinema sponsored in part by the American Film Institute. ~ Mark Deming, Rovi
Critic Reviews for Please Vote for Me
All Critics (3) | Fresh (2) | Rotten (1)
To be sure, the student voters in Please Vote for Me are a capricious bunch. It's difficult to tell, though, where clever editing has been employed to create false drama.
The result [in the film] is a campaign that uses name-calling and favor-giving that would make the old Tammany Hall crowd proud.
The teachers have decided which three eight-year-old third-graders will run [and] Director Weijun Chen has captured all the politicking of American democracy in this microcosm...
Audience Reviews for Please Vote for Me
½
An interesting and charming film from China where they introduce democracy in a 3rd grade class in terms of campaigning to become the Class Monitor.  What these kids and their parents get up to to win the election is fairly shocking, but not near as depressing as the final outcome.  Well worth a watch.
Christopher Brown
Super Reviewer
[font=Century Gothic]"Please Vote for Me" is a short documentary about a school election. What makes this one special is that for the first time a class monitor is being chosen from three candidates by the students, not the teachers, at the Evergreen Primary School in Wuhan, China. On the surface, it is like a lot of other school elections with the exception of the talent show. However, it should be mentioned that eight years old is too young to be put under such stress and two of the students ask out. What keeps them in is their parents who all take an active role for better or worse. Meant as a lesson on the subject of democracy(none of the students know what it is but one of the parents remarks that it is the choosing of one's masters), it is one the students learn too well, especially in how the results are swayed.[/font]
Democracy comes to China in a small way. A documentary about a class election at an elementary school in Wuhan, China. Don't be fooled. Electing the Class Monitor is a big deal for these third graders. Two boys and a girl contend for the big prize. All the earmarks of a western style election campaign are here. Dirty tricks, lies and innuendo, personal attacks, intimidation of the electorate, and the inevitable meltdown. The only thing missing was an October Surprise. A bit of a hoot, and a life lesson for all involved. Life is not fair, and nice guys do not always finish first. Even the teachers and the administrators seemed to enjoy the process. This viewer wonders about the psychological effect of such a traumatic experience for the two losers at such a young age. It will keep one entertained for nearly an hour, however.
Mark Abell
Super Reviewer
Please Vote for Me Quotes
There are no approved quotes yet for this movie.