Poison Ivy II
(1995)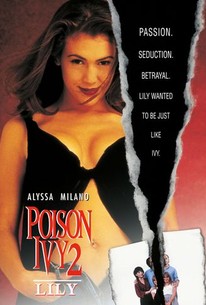 Movie Info
A student (Alyssa Milano) becomes daring after reading the diary of a teen seductress in a sequel that's barely related to the original. Xander Berkeley, Johnathon Schaech. Directed by Anne Goursaud.
Critic Reviews for Poison Ivy II
All Critics (6) | Fresh (1) | Rotten (5) | DVD (2)
Milano sizzles! Ouch...
March 10, 2005 | Rating: 3/5
As a film, it's negligible at best. It's somewhat shameful to admit that the film was saved by Alyssa Milano's body--but what can I do? I'm male.
August 19, 2002 | Rating: 2/5
Audience Reviews for Poison Ivy II
½
Alyssa Milano takes her turn as sexy temptress in the trashy thriller Poison Ivy II: Lily. Drawn in by the allure of an explicit secret diary that she found, freshmen art student Lily sheds her conservative sensibilities and gives into her sexual desires. Milano is absolutely awful and does a terrible job at selling this character; although to be fair, the script is garbage. The whole good girl gone bad thing is trite, and couldn't be done in a more cliched way. Lurid and tasteless, Poison Ivy II: Lily is an obvious and desperate attempt by Alyssa Milano to sex up her image.
Dann Michalski
Super Reviewer
½
Weak. Plot is pretty much Alyssa Milano goes to new school, decides to tramp it up a bit, gets involved with older, married teacher guy who's daughter she babysits (and you really do look at this guy and think "why"?!). He teaches rather than paints because he goes psycho whenever he paints young girls. Guess what happens next. Struggling for positive things to say, Alyssa really does look nice in this, and she wears some lovely outfits (as well as some awful ones). It's kind of like a soft porn movie although it's not quite as graphic as you might expect. I think it's pretty much just a cash in on the original and Alyssa trying to shock people and shake off the wholesome image she had at the time. I have certainly seen worse, but there's not really a lot to recommend this.
Nicki Marie
Super Reviewer
Bad, bad idea for a follow-up to the original. Like "Highlander 2," this one is best forgotten. The only link to the original is the name, and a reference to a former college student named Ivy...at an art college, of all places. Alyssa Milano tried to pull off the good girl to bad girl to good girl transition, but it just wasn't that convincing. And to try and boost her career by having multiple sex scenes was a sorry way to do it. Really, who thinks of this film when they hear her name? I gave it an extra star just because I liked her as a child star on "Who's the Boss?" Unlike the original, there's not a lot of suspense via cinematography. Instead, they opted for multiple nude / sex scenes. Honestly, if that's what you want in a film, you're better off renting a porno...the acting will be better. If it wasn't for the fact that I like to keep things in sets, I'd give this DVD away. If all you want is to see Alyssa Milano naked, then you'll enjoy this film. Otherwise...
Cassandra Maples
Super Reviewer
Poison Ivy II Quotes
There are no approved quotes yet for this movie.