Ponette
(1996)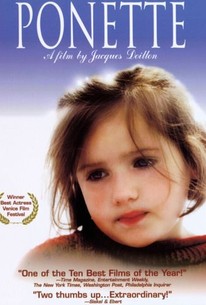 Movie Info
A four-year-old girl must come to terms with the loss of her mother and the reality of death in this award-winning French drama. Little Ponette (Victoire Thivisol) is riding in a car with her mother when they're involved in a serious accident; Ponette survives, but her mother does not. Her father (Xavier Beauvois) initially reacts with anger over his late wife's careless driving, while her Aunt Claire (Claire Nebout) tries to comfort the child by telling her about Jesus and the resurrection. However, none of this does much to reassure Ponette or clarify her confusion about the practical realities and spiritual dilemma posed by death. In time, Ponette and her cousins Matiaz (Matiaz Caton) and Delphine (Delphine Schiltz) are sent off to boarding school, where they have to resolve their confusion and loss on their own. Writer and director Jacques Doillon carefully coached Victoire Thivisol (who was too young to read the screenplay) through her performance; the results earned the child Best Actress honors at the 1996 Venice Film Festival.
News & Interviews for Ponette
Critic Reviews for Ponette
All Critics (22) | Top Critics (4) | Fresh (20) | Rotten (2)
... as powerful a film as has been made about the interior life of children.
January 15, 2005 | Rating: A-
Outstanding study of troubled child
August 24, 2004 | Rating: 4/5
The kind of intimate drama that stops you in your tracks and leaves you marveling at the magnificence of the human soul.
Audience Reviews for Ponette
½
I have no idea how Jacques Doillon managed to get such sincere performances out of 4 year old children (especially Victoire Thivisol) but Bravo Jacques, Bravo!
Randy Tippy
Super Reviewer
½
Victoire Thivisol gives such an amazing performance for such a young actress. I really loved the emotion protrayed in this film and the story was well-written. The director really brought it to life realistically I think... except for the end which went against everything in the beginning that people don't come back to life, except Jesus, until the rapture when everyone is resurrected. I really liked how the aunt was comforting Ponette but the other people in the movie who talked about God really got on my nerves... especially Ada, the girl on the playground. One of the best French films I've seen! :-)
Dannielle Albert
Super Reviewer
This movie is so beautiful and touching. the star (Victoire Thivisol) is an AMAZING actress, The performances (especially the children's) are so real and natural that it's almost like watching a documentary.
Ponette Quotes
There are no approved quotes yet for this movie.