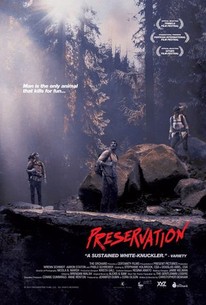 Preservation
2014, Mystery & thriller/Horror, 1h 30m
14 Reviews
500+ Ratings
Where to watch
Rent/buy
Rent/buy
Buy
Rate And Review
Movie Info
An anesthesiologist (Wrenn Schmidt) must awaken her animal instincts when she, her husband and her brother-in-law become the quarry of unseen hunters who want to turn them all into trophies.
News & Interviews for Preservation
Audience Reviews for Preservation
Sometimes, the smallest of twists in the most common of stories, can make all the difference. Preservation is nothing you haven't seen before, as it features three hikers who get lost in the woods and are then hunted, while trying to find their way out. The real difference in this film is who is hunting them and why. To me, the scariest horror films are the ones that are believable. The events of this film could really happen and that is more terrifying than any ghost or goblin that Hollywood can create. Aside from the trip to the woods, there is a back story that features the hikers, making them seem all the more real to the audience. Unlike many similar film, the innocent hikers are people the audience will feel like it knows and they feel like people one can relate to. Preservation also features differences from other similar films, in the methods that the hunted use. How many times have you watched a film and said, "these people are stupid, I would never do that in a situation like this!?" In Preservation, they don't make those mistakes, in fact, they pretty much do everything a reasonable person would do. Finally, the cast is almost entirely made up of newcomers and they are truly terrific. Wrenn Schmidt is the kind of common hero that people tend to love, while Cody Saintgnue is the baby face who could do no wrong. At first I thought this film would be just like every other romp through the woods, but it's so much better than that. The film is extremely realistic and very well written, making it one of those independent films that you want to tell all your friends about.

Not so much of a horror film as it is more of a survival drama. The film certainly frames itself as horror, but it doesn't play out in the conventional manner. There aren't any real scares. Then again there are plenty of non-scary horror movies around. Slashers for one would be a prime example where they're not particularly scary and they would still fit within the genre. Honestly there's nothing about this film that's really unique to it. To say it borrows heavily from other sources is a definite understatement. This film IS its other sources. But, you know what, I thought this was a damn good thriller. Perhaps not really good. But within its limitations and its context, I thought it worked better than this type of film would normally play out with this type of framing. It's well-shot, the cast is strong, the score to the film is excellent and I just think the progression of the story builds up the tension very well and the climax is very, very good. Some of the scripting of the dialogue itself isn't great, but it could've been worse, all things considered. In some ways, this movie isn't really about the dialogue, it's more about the hunt and what that entails. Not saying that this has a lot of action, but it's not long before the 'hunt', as it were, begins and these masked killers try to murder off our protagonists. I think this is one of the better examples of the hunted becoming the hunter in a while. While I thought that You're Next, an overall better movie than this, did a good job at that element, it didn't do so as effectively as this one did. It's very simple but it works. Wit is tired of these motherfuckers hunting her, her husband, and her brother-in-law so she decides to take matters into her own hands. I guess that sort of spoils what goes on in the film. But if you've seen even more than 2 of this type of film then you'd know where it's heading. It's also a fairly interesting look at how youth, in both Mike's and Sean's cases growing up and the villains in the film, sort of grow up with violence always surrounding them. And how that somewhat desensitizes people to some pretty horrific actions or how they view this type of violent death as something normal and that there are no consequences. There's a subplot in the story about Sean, the soldier, being discharged for something that is never revealed. Listening to some of Sean's stories, it's obvious that it had something to do with him killing someone for no other reason than he could. It's never revealed but that's the conclusion you come to on your own. This is something that dates back to long before this generation. Kids playing cops and robbers or cowboys and indians come directly to mind. Most of these 'games' were around the 50s, when westerns were super popular. So it's been going on for generations. Of course in this day and age you have violent movies, violent games, violent TV series, etc. There's also the internet, which allows you to find all kinds of horrific things. And this isn't even as a criticism as those mediums, as I'll be the first one to say that just because a few people happened to watch violent movies, play violent videogames, etc. does not mean that these forms of art, and that is what they are, are truly harmful. And I say this because there are millions upon millions upon millions of people who watch violent movies or play violent games that are perfectly normal, law-abiding citizens. I just think that the message tries to call attention to that fact though. That youth, and everybody really, not just the youth, are going through life seeing violence all around them. This movie takes that concept and pushes it to the extreme. Even though it's not the bloodiest film I've ever seen, not by a long shot. I'm honestly surprised this movie got such a negative reception among users of this website. I'll freely admit that this is not perfect but there's far worse films out there. And on the scale of horror films, if we're trying to narrow it down, this wouldn't even come close to being bad. I wonder if it's because the film so openly borrows from other sources. But that's hardly a reason to hate on a movie. Out of all films currently in production maybe a good 5-10% of them will truly be an original work of art. And that's probably being generous. And by truly original I mean something that no one, no where, has ever done before. Something that is completely new. I suppose I could read the reviews but I have no interest in doing that honestly. But yea, this is a good little movie here. I would recommend it for a solid Netflix Instant watch. Nothing more and nothing less.
See Details