Putevoy obkhodchik (Trackman)
(2008)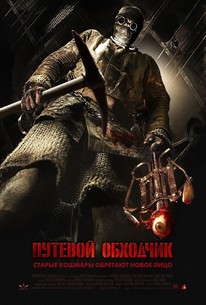 AUDIENCE SCORE
Critic Consensus: No consensus yet.
Movie Info
An abandoned Moscow subway station serves as the setting for this shocker concerning a group of violent bank robbers who fall prey to a deformed psychopath who stalks the underground corridors in search of fresh victims. The heist went off without a hitch, but now at the hideout things have taken a turn for the worst. Deep beneath the city of Moscow lurks a madman who never sees the light of day. The same can be said for his victims as well, because once he drags them into the darkness they're never heard from again. Now, as the robbers and their hostages descend beneath the city streets, the Trackman appears to claim his latest batch of victims. ~ Jason Buchanan, Rovi
Critic Reviews for Putevoy obkhodchik (Trackman)
There are no critic reviews yet for Putevoy obkhodchik (Trackman). Keep checking Rotten Tomatoes for updates!
Audience Reviews for Putevoy obkhodchik (Trackman)
EXTREMELY boring and slow paced...but the antagonist and the story are so significant, I have to give this film some credit.
Jacob Palacio
Super Reviewer
½
This One is from the Ghost House Underground Series of films release in 2009. Its an excellent film, one that will keep you on the edge of your seat. A Russian Film. After a perfect Bank Robbery, the robbers take hostages and go in to the sewar system, while trying to escape they get lost and they run into the Trackman who seems to have a fetish for eye balls, and eliminates our cast one by one. Excellent on the edge rainy night movie. 4 stars
Bruce Bruce
Super Reviewer
Good Russian horror film with an interesting plot that unfortunately falls apart by the end. I'm not a big fan of "crime gone wrong" horror films (The Cottage comes to mind) but I don't mind when they stay away from glorifying the criminal. And in this movie, the criminals are just that; criminals. The best of the lot is simply not as sadistic as the other ones. That said, the film is not masterpiece in storytelling. The audience is never quite sure (until the confusing final shot) whether the Trackman is real or supernatural since he seems to have the ability to disappear and reappear at will. And the pacing does lag in parts. But aside from those criticisms the film left me satisfied the same way something like SL8N8 did. Recommended when you don't want want mindless violence and good atmosphere.
Christopher Brown
Super Reviewer
Putevoy obkhodchik (Trackman) Quotes
There are no approved quotes yet for this movie.