Rancid Aluminum
(2001)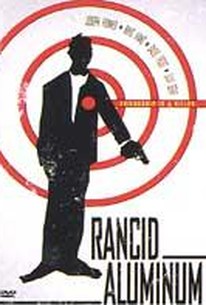 AUDIENCE SCORE
Critic Consensus: No consensus yet.
Movie Info
Joseph Fiennes and Rhys Ifans star in this wacky British comedy-thriller. Hard luck case Pete (Ifans), who is unable to impregnate his hot-to-trot wife Sarah (Sadie Frost), learns that his father's business, which he recently inherited, is saddled with a huge tax debt. At his wits' end, he consults his coke-snorting buddy Sean (Fiennes), who recommends a monetary infusion from local Russian loan shark Mr. Kant (Steven Berkoff) and his over-sexed daughter Masha (Tara Fitzgerald). When Pete and the mobster meet, Masha starts aggressively seducing him. Meanwhile, Sean double-crosses everyone while Sarah just whines. ~ Jonathan Crow, Rovi
Rating:
R (adult situations/language, sex, violence)
Genre:
, , ,
Directed By:
Written By:
In Theaters:
On DVD:
Runtime:
Studio:
LionsGate Entertainment
Audience Reviews for Rancid Aluminum
½
There's something quite Shakespearean about this enjoyable tale of dodgy international double dealing, sinister plotters, power and biological succession. Played for laughs and generally played very well by an excellent cast of mainly Brits. Oh, and in case we need more evidence that it's a Brit flick, they've even spelt the title right.
The Shrewlord
Super Reviewer
** (out of four) A fair, but mostly unsuccessful gritty thriller about a man who is having numerous problems in his life, including trouble with his girlfriend and his business failing. To save himself he turns to the Russian mafia for help. These decisions never end well. Rhys Ifans and Joseph Fiennes are good in their part, but the film fails to create much suspense.
Steve Smith
½
[font=Book Antiqua][size=5][color=#000033][font='Book Antiqua']Hey All,[/font][/color] [color=#000033][font='Book Antiqua'][/font][/color][color=#000033][font='Book Antiqua'] I'm sorry I've been gone so long. Did you all miss me? I've been having issues with Netflex again. I'll explain in another entry. Right now I'm here to write about "Rancid Aluminum". I received this movie a couple of weeks ago and was too lazy to write an entry for it. LOL! I really enjoyed this movie. I thought the plot for this movie was well written even though predictable. Some of the actors who brought this movie to life are Rhys Ifans and Joseph Fiennes did an amazing job. "Rancid Aluminum" is about this family owned company. When the company's founder dies his son inherits the company. Little does the son know that the company is going belly up. His best friend who works at the company as well is supposed to help but he has issues of his own. When the son gets involved with this Russian mafia at his best friend's urging all hell breaks loose. I would suggest this movie to people. There isn't much as far as bonus features on this DVD but that's okay. Please see what you think.[/font][/color] [color=#000033][font='Book Antiqua']Fritz ;) [/font][/color] [/size][/font] [font=Book Antiqua][size=5][/size][/font]
Jennifer Parks
Rancid Aluminum Quotes
There are no approved quotes yet for this movie.