Renaissance Man
(1994)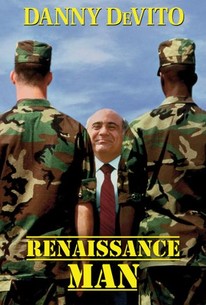 Movie Info
Culture-clash comedy in which Danny DeVito tries to teach Shakespeare to a group of "ineducable" soldiers.
People Who Like this movie also like
Critic Reviews for Renaissance Man
All Critics (18) | Top Critics (3) | Fresh (3) | Rotten (15)
Having taken basic training at Ft Jackson, SC this film had a lot of memories for me. Plus Penny Marshall autographed my "League of Their Own" poster for me after the premiere.
January 1, 2005 | Rating: 4/5
Okay "heartwarming" drama. Tries too hard, but mostly works.
July 14, 2003 | Rating: 3/5
Audience Reviews for Renaissance Man
½
Penny Marshall's Renaissance Man almost could be a really good film. Unfortunately, the script is so repeated.
Lucas Martins
Super Reviewer
I can't believe that only 10 people have wrote a review for "Renaissance Man." I thought it was a lot more popular than that and I know that it deserves all the praise and popularity that it can get! Bill Rago (Danny DeVito) takes a job as a teacher in the Army even though he doesn't have any teaching experience and doesn't really want the job. Yeah I agree that that does sound a little far fetched, but not all movies have to tell a true story! Bill doesn't exactly know what to teach about, so he just teaches the 'students' about something he really likes, the book, Hamlet. Will the army students enjoy learning about Hamlet or will they think it's boring? Will Bill Rago be a good teacher or a fluke? I recommend watching the movie to find out. I thought "Renaissance Man" was a great movie. Unlike what many people might think or might had heard about it previously, it's not really a full-fledged comedy movie. Danny DeVito is hilarious in the movie and the part that I'll remember the most from the whole movie is one of the funniest parts I've ever seen in any movie!! I couldn't quit laughing at the part where Danny DeVito got to the top of a tall place in the army, and he has to try and work his way down with a rope even though he's TERRIFIED of heights. "Renaissance Man" has a few other hilarious parts, but really when it all comes down to it, it's more of a drama movie and more of a feel-good movie than it is a comedy. Not that that's bad, but that's the only complaint I have whatsoever about the movie, it could've had a few more hilarious parts where more people would have given it rave reviews and remembered it the rest of their lives. However, it wasn't bad enough to take away any of my rating for it, so I still give it a 5. If you like great comedy/drama movies, I recommend getting "Renaissance Man." You'll laugh your head off and feel the drama at the same time. NOTE: That was my Amazon review from the year 2001. That's just BS...this was 8½ years ago that I first saw the part where Devito's trying to scale down a wall? Seems like yesterday!
Jason Owens
Super Reviewer
Enjoyable enough to check it out. Features a young Wahlberg, and Danny DeVito is very funny.
Dan Schultz
Super Reviewer
Renaissance Man Quotes
There are no approved quotes yet for this movie.