Rise of the Dead
(2007)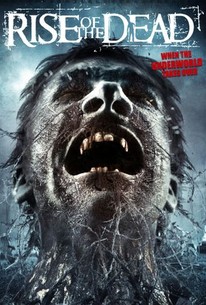 AUDIENCE SCORE
Critic Consensus: No consensus yet.
Movie Info
When the forces of the undead descent upon the sleepy town of Dudley, Ohio, Laura Childs (Erin Wilk) is forced to do battle with an evil entity that truly knows her more intimately than anyone living or dead.
Critic Reviews for Rise of the Dead
There are no critic reviews yet for Rise of the Dead. Keep checking Rotten Tomatoes for updates!
Audience Reviews for Rise of the Dead
The title is a little misleading. But it IS a zombie film, just not a traditional one. It's starts off with random people in a town getting all herky jerky and attacking people. And moves on from there. You can't really say too much about this film or you give it away. I really didn't know what to expect and I felt for the first 3rd of the film -budget retrictions aside (including camera, sets, actors, etc)- it was really no different from any other non independant film I've seen. The appeal of being independant is that you can have content that no studio would ever but in their own films, so it's starts off nothing much. This is not to say the start is boring, but kinda typical. It's well in get past that first 3rd that it gets strange and different from Hollywood. Now this has some good indie appeal to it, mostly in that the budget shows, with gives it a bit of a down to earth passion filled first time director feel, but unlike most first films, this sucker, despite what it takes away from the film, plays everything straight faced with only a few comic moments. This doesn't always work, as the actors aren't great, but it pays off at the end, an end you really don't see coming and could never expect, even right before it happens. This film also leaves you with an incredibly disturbed feeling. When taken into perspective this film is sort of like a collection of grindhouse film plots made into one and done in a wannabe Hollywood style. Were I to make the decisions I would probably make this sucker go all out with it's subject matter, but they director really doesn't do a bad job by any stretch of the imagination. I would suggest to just try to deal with bad actors and you with enjoy it alot more, I mean they are not too bad. Yet the protagonist's mom looks hardly 5 years older than her, meh chalk it up to it being a modern exploitation or something. Added to this, the film is only 72mins long, and really won't take up too much of your time, so include it in a double feature with a classic, I suggest Max Kalmanowicz's "The Children", an exploitation classic.
Patrick Dolan
Super Reviewer
Rise of the Dead Quotes
There are no approved quotes yet for this movie.