Rise of the Planet of the Apes
(2011)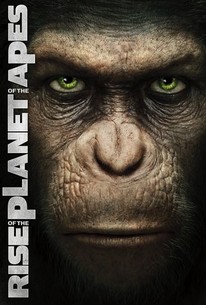 TOMATOMETER
AUDIENCE SCORE
Critic Consensus: Led by Rupert Wyatt's stylish direction, some impressive special effects, and a mesmerizing performance by Andy Serkis, Rise of the Planet of the Apes breathes unlikely new life into a long-running franchise.
Rise of the Planet of the Apes Photos
Movie Info
A single act of both compassion and arrogance leads to a war unlike any other -- and to the Rise of the Planet of the Apes. The Oscar-winning visual effects team that brought to life the worlds of Avatar and Lord of the Rings is breaking new ground, creating a CGI ape that delivers a dramatic performance of unprecedented emotion and intelligence, and epic battles on which rest the upended destinies of man and primate. -- (C) Official Site
People Who Like this movie also like
News & Interviews for Rise of the Planet of the Apes
Critic Reviews for Rise of the Planet of the Apes
Audience Reviews for Rise of the Planet of the Apes
Planet of the Apes is a franchise that has been around for a very long time. From a fantastic original back in 1968, to spawning sequels ranging from good to downright unwatchable, to a terrible remake back in 2001, this franchise has been all over the spectrum in terms of watchability. At the time of release in 2011, I really don't believe many people were clamouring for yet another reboot of this concept. Then it was announced to be a prequel series, which worried me even more, as it seemed the studio was desperate for a new concept. That being said, this is one of the best prequels I've ever seen and the series only got better from here. Here is why Rise of the Planet of the Apes was a great idea back then and why it serves as an incredible idea still to this day. From the mere idea of this film, it was a risky gamble. For a franchise that started many years ago and failed so recently, it was a large wonder as to why they were deciding to bring this franchise back into the spotlight. Sitting in the theatre almost six years ago, this film opened my eyes in ways that I wasn't expecting. Dealing simultaneously with human issues in cancer and survival, while dealing equally with the torture that caused these apes to go crazy on the human race, there was a real sense of purpose for this film to exist. Getting to see how exactly these apes will be able to speak and learn in the future was a very well done aspect of this first film, also adding some great tension along the way. Easily the best aspect about this film was the relationship between Caesar (performed by Andy Serkis) and his adoptive guardian Will (played by James Franco). James Franco was a strange casting at first, because it didn't seem like the type of franchise that he would comfortably fit into, but I was completely wrong with that judgement. His adoption of Caesar, morphing into a relationship of a loveable pet, only to devolve into a hatred, this endearing relationship just goes to show how much love can truly mean nothing unless you fight for what you believe in. This is the core story of the film for sure, but I truly think this film wouldn't have worked as well without this genuine human connection with these apes. Although fictional, this film goes a very good job in making this a believable premise. There truly aren't any big flaws with this film, but it's almost too straight forward to have the right amount of depth. In the grand scheme of things, this is a film that could've easily become convoluted in trying to connect every one of its storylines in order to stay in line with the original classic, but it happily stays on its own as a standalone beginning to a new trilogy of films. This truly is the story of how Caesar will evolve and eventually lead the apes to take over the planet. While there are side plots occurring throughout the majority of this picture, that's the core story through and through. Nothing else is needed here in my opinion, because it really just wanted to be a fresh starting point for a new, epic trilogy of films. This could also be seen as a negative, as the film doesn't take many risks in exploring anything more, but I felt that was a gutsy positive in the end. On a mere $93,000,000.00 budget, they played it safe, and while it wasn't a box office smash, its fanbase has been growing ever since (myself included), due to the quality of filmmaking put into it. In the end, you can pretty much call the beats of this film and there are a few throwback moments for the classic fans, but Rise of the Planet of the Apes is still as fresh as ever, and serves as an even better film after watching the 2014 sequel and the upcoming conclusion. War for the Planet of the Apes hasn't quite released yet, but this is shaping up to be one of the best trilogies in recent memory. Most trilogies have weak spots, but these just keep getting better. From it's slow burn throughout the first act in order to exploit the treacherous human side, to the very well paced second act to set-up the eventual climactic battle, to the climax itself that satisfies in more ways than one, Rise of the Planet of the Apes is the exact representation of a franchise that has made itself accessible to all audiences. There is a romance aspect, a social commentary aspect, a heavily drawn dramatic aspect, and a very well spread out action-centric finale. It may be a little too basic of a film to call a masterpiece, but each time I view this movie, I find new things to love about it. Popcorn entertainment doesn't get much better than this.
½
The digital effects may have been stunning a few years ago but now look dated and artificial, which is at least compensated by Andy Serkis' impressive performance as the ape Caesar, who turns out to be more well developed as a character than the one-dimensional humans.
Carlos Magalhães
Super Reviewer
VERDICT: TOTALLY WATCHABLE - Where did this come from? Rise of the Planet of the Apes is the biggest surprise of 2011. The effects are great, but what really connects with you is Andy Serkis' performance as the ape Caesar. You feel as emotionally attached to Caesar as any of the human characters, and I believe that's exactly how the filmmakers wanted you to feel. This is a film that concentrates heavily on its story. Boasting remarkable acting, and truly mesmerizing moments (some only involving CGI apes communicating in sign language), make sure you seek this film out by any means necessary!
Edward Boxler
Super Reviewer
Rise of the Planet of the Apes Quotes
| | |
| --- | --- |
| Dodge Landon: | Get your stinking paws off of me, you damn dirty ape! |
| | |
| --- | --- |
| Steven Jacobs: | These apes are smarter than you think. We've got to kill their leader |
| Steven Jacobs: | These apes are smarter than you think. We've got to kill their leader. |
| | |
| --- | --- |
| Caesar: | [to Will] This is my home. |
| Caesar: | [to Will] Caesar is home. |
Discussion Forum
Discuss Rise of the Planet of the Apes on our Movie forum!