Robo-geisha
(2009)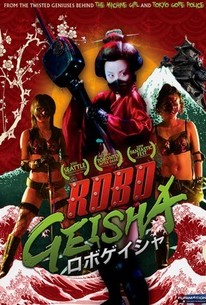 AUDIENCE SCORE
Critic Consensus: No consensus yet.
Movie Info
Two beautiful sisters become mechanized killing machines in this over-the-top Japanese horror-comedy. Yoshie (Aya Kiguchi) is a lovely but shy girl who has spent all her life playing second fiddle to her big sister Kikue (Hitomi Hasebe). Kikue has become the most popular hostess at a local geisha house, while Yoshie is stuck doing the cleaning and suffering unflattering comparisons to her sister. Both Yoshie and Kikue fall under the sway of Hikaru Kageno (Saitoh Takumi), heir to a valuable metal foundry who has developed an insane but ingenious secret plan to turn geishas into high-tech robotic assassins in a bid to take over the world. The sisters leave a bloody trail in their wake as they do Kageno's bidding, but the long-simmering rivalry between the sisters comes to a boil when Yoshie refuses to kill a handful of senior citizens and turns on her master, as well as her sister who remains loyal to Kageno. RoboGeisha was directed by Noboru Iguchi, who previously pondered the plight of females turned into robots in 2008's The Mechanical Girl. ~ Mark Deming, Rovi
Critic Reviews for Robo-geisha
All Critics (1) | Fresh (1) | Rotten (0)
You generally don't win Academy Awards for movies which feature lines like "She has a machine gun in her ass!", but there are other rewards, like creating the funniest midnight movie ever.
Audience Reviews for Robo-geisha
We saw the trailer for this a few months back while watching another fillm and knew that we HAD to see it. Mindless fun, but I think they made the mistake of trying to develpe the story line way too much. It wasn't really necesary as they appeal here is seeing robogeisha in action. Too much (weak) story and not enough action! But still fun - in a completely ridiculous way.
Waaaay over the top film aimed at the same audience that enjoyed Machine Girl and Tokyo Gore Police, though this time it's a bit lighter in tone. Fun to see how creatively the team stretches the budget.
½
"Who am I? Am I a robot? A geisha? Even I don't know the answer...either now or in the past." This movie is insane. Even compared to similar Japanese movies, it's still in a class by itself. I understand that one wouldn't expect a movie called RoboGeisha to be a thoughtful, artsy mood-piece, but, wow. "Perversely imaginative" is a good descriptive phrase that comes to mind. That weirdness doesn't deliver a good flick, though. A lot of those campy, ridiculous Japanese movies are a blast to watch, but Robo-Geisha is basically a constant stream of randomness and gore, with little real entertainment factor. You'll go WTF and chuckle at some of the oddities that are thrown at you (like the giant castle/robot doing "the robot"), but a lot of things that are intended to be awesome or campy, instead come off as just dumb. Beyond the appeal of seeing what absurdity will show up on screen next, there's not a lot to recommend about this one. Watch Machine Girl instead.
Robo-geisha Quotes
There are no approved quotes yet for this movie.