Rooms for Tourists (Habitaciones para turistas)
(2000)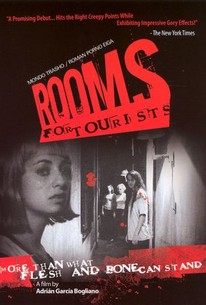 AUDIENCE SCORE
Critic Consensus: No consensus yet.
Rooms for Tourists (Habitaciones para turistas) Photos
Movie Info
A handful of high-school girls take a deadly detour en route to a somber destination in this low-budget shocker from Argentina. Elena (Jimena Kroucco) and Theda (Elena Siritto) are a pair of teenage girls who meet while traveling from Buenos Aires to a small town in the country. Elena is a student trying to keep up with her studies, while Theda is a troubled young woman given to terrible nightmares. Elena and Theda are supposed to catch a connecting train in the village of San Ramon, a town seemingly overrun with fire-and-brimstone preachers and locals with a taste for blood and vengeance. The girls miss the next train out of San Ramon, and soon fall in with three other girls in the same situation -- film student Silvia (Mariela Mujica), punk rocker Lydia (Victoria Witemburg), and absent-minded Ruth (Brenda Vera). There isn't another train until morning, and the stationmaster directs the young women to a bed-and-breakfast run by Maxi (Jose Santiago) and Nestor (Rolf Garcia Puga), a pair of brothers who inherited the business from their late mother. The girls don't feel especially comfortable at the inn from the time they check in, and soon sinister noises and disturbing apparitions give way to an extremely bloody murder. The four remaining girls quickly realize they are trapped in the bed and breakfast with no way out -- and that they have something in common that has led this community of killers to take up arms against them. Habitaciones para Turistas (Rooms for Tourists) was the first feature film from writer and director Adrían García Bogliano.
Critic Reviews for Rooms for Tourists (Habitaciones para turistas)
All Critics (3) | Top Critics (2) | Fresh (2) | Rotten (1)
This Argentinian horror film consistently hits the right creepy points while exhibiting impressive gory effects created with extremely limited resources.
October 20, 2005 | Rating: 3.5/5
The scenario is absurd enough to play as satire, but no.
October 18, 2005

This spare, downbeat shocker shows considerable promise within the scope of its own modest ambitions.
Audience Reviews for Rooms for Tourists (Habitaciones para turistas)
½
This is a well done for the obviously small budget the picture with very good gore effects that won't let any gore fan down. Filmed in black and white helps hide the low budget feel. This Argentine film is certainly not perfect and the story is similar in some aspects to "Hostel" but the resolution of the movie is fresh and smart and offers suspense, claustrophobia and good use of lighting and style.
Rooms for Tourists (Habitaciones para turistas) Quotes
There are no approved quotes yet for this movie.