Rough Night
(2017)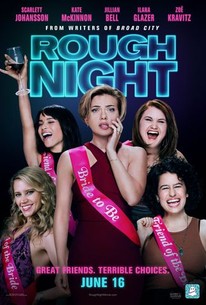 TOMATOMETER
AUDIENCE SCORE
Critic Consensus: Rough Night's gifted stars are certainly good for some laughs, but their talents aren't properly utilized in a scattered comedy that suffers from too many missed opportunities.
Movie Info
In the R-rated comedy Rough Night, five friends from college - played by Scarlett Johansson, Kate McKinnon, Jillian Bell, Ilana Glazer, and Zoë Kravitz - reunite when they rent a beach house in Miami for a wild bachelorette weekend that goes completely off the rails. Just when all hope is lost, they realize there's more to the story than they could've ever imagined.
News & Interviews for Rough Night
Critic Reviews for Rough Night
Audience Reviews for Rough Night
Is it possible to have a girls night movie that doesn't revolve around normalizing recreational drug use, strippers, vulgarity etc. Maybe my age, but honestly I couldn't relate to it when I was younger and I'm bored crapless by it now. It's just lazy as far as I'm concerned and Christ, that fake Australian girl and her jar of vegemite. What the f?
Nicki Marie
Super Reviewer
Why do knockoffs get a bad name? Because they don't even come close to the originals, yah? This stoner derived steal steals liberally from Bridemaids, The Hangover and Weekend at Bernie's. The cast throws themselves into it, no doubt, but to little effect. It would be a great background video, something that plays in the back of something else you are doing.
Kevin M. Williams
Super Reviewer
It's The Hangover for women, set in one location. If you were to take the film Bridesmaids, strip it down of any likeable characters or reason to like the premise, and place a bunch of unlikable women in their place, only to have to sit through their banter for 100 minutes, you would get a film like Rough Night. Not quite sure where to start with this one, because even though this film received pretty poor criticism, I found myself remaining exciting, seeing as I love quite a few of the actresses. It just goes to show that a terrible script can hurt any film, even if the most talented actors/actresses are cast in it. With a better script, this film could've been so much better, and here's why. In terms of Hollywood standards, this film had a relatively low budget of 20 million dollars, and while that may seem like enough for a comedy like this, it clearly went to the cast and crew, rather than the locations. Taking place at one location for the vas majority of the movie, it definitely feels small in comparison to similar films that came before it. There may have been some improvisation throughout the film, but I honestly couldn't tell, because it was clear that these actresses weren't being given enough freedom in terms of their performances. It felt like the director was very adamant on making sure they stuck to the script, which I think hurt the movie as a whole. I'm all for dark comedy, but this film is tonally all over the place. In one instant, it expects you to be uncontrollably laughing, but moments later you're expected to feel bad that these women accidentally killed someone during their bachelorette party. Having to hide the body Andover up their evidence, the plot thickens, but also becomes less funny and much more predictable than you want it to be. Quite honestly, I called the ending after the first act concluded and that's also when the best jokes had ended. With this much talent on-screen, this movie should've and could've been so much funnier and smarter. There are sequences where characters are high and cracking jokes, while others are thinking about their life and sobbing. The tones clashed far too much to fully enjoy most of this movie. I may seem like I'm ranting about this movie more than complimenting it, but that's because it's just not good. That being said, there were definitely a few aspects that made it watchable in the end. The cast of women definitely work well together, but I wish they had better material to work with. I've enjoyed watching Jillian Bell in the past, but I found her to be too far over-the-top here, taking away from the chemistry they all shared. That being said, I still bought into their friendship and it was easily the most likeable portion of the film. The events that they find themselves involved in were probably funny on paper, but the execution was just horrible. It sucks when you can see potential failing in front of your eyes. Rough Night could've used about two or three more rewrites in order to polish this into a film that plays more like a Weekend at Bernie's, because when certain aspects mirror that movie, it felt incredibly forced in order to earn a laugh, which I think it failed useable that. In the end, I can't get myself to recommend this movie to anyone, because it's just one big missed opportunity. Quite honestly, I would love to see a remake of this movie in about ten years (and I never say that), because I found myself more frustrated than anything when watching Rough Night. I kept predicting every surprise and thinking about ways to improve it. Overall, this isn't a terrible movie, but it should've been way better.
Rough Night Quotes
There are no approved quotes yet for this movie.