Rough Night
(2017)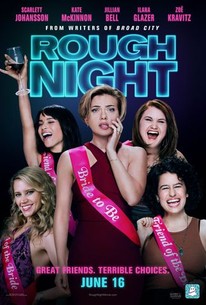 TOMATOMETER
AUDIENCE SCORE
Critic Consensus: Rough Night's gifted stars are certainly good for some laughs, but their talents aren't properly utilized in a scattered comedy that suffers from too many missed opportunities.
Movie Info
In the R-rated comedy Rough Night, five friends from college - played by Scarlett Johansson, Kate McKinnon, Jillian Bell, Ilana Glazer, and Zoë Kravitz - reunite when they rent a beach house in Miami for a wild bachelorette weekend that goes completely off the rails. Just when all hope is lost, they realize there's more to the story than they could've ever imagined.
News & Interviews for Rough Night
Critic Reviews for Rough Night
Audience Reviews for Rough Night
½
I haven't seen Very Bad Things. I know that, especially after seeing Rough Night, I need to. That 1998 Peter Berg film more or less has the same premise as this new film with writer/director Lucia Aniello and writer/star Paul W. Downs (both of Broad City fame) switching up the genders and making it a male prostitute that gets killed at a bachelorette party rather than the other way around. I provide this context (and the context that it's been a while since I've seen Weekend at Bernie's) to say that my view of Rough Night might significantly alter after having seen that film, but as of right now what I can say about this female-centric comedy is that it is...okay. It's another one of those comedies that has otherwise well-behaved individuals behaving badly and thinking that the only way to have funny things happen is to have people act out on all different levels of crazy. I'm still waiting for modern comedies to catch up with half hour sitcoms and realize not all humor has to come from people going off the rails, but rather it can be funny and is often funnier when the laughs are elicited from the mundane and small, but honest truths of life. I'm not saying no feature comedy has ever tapped into this before, of course they have, but I am saying there's been a discouraging trend lately that deals in groups of friends and/or co-workers acting outrageous in the face of whatever the plot throws at them. I'm also not saying that such comedies can't be done well or in effective ways-I would still hang out with the guys from The Hangover movies just because their rapport was lightning in a bottle and I enjoyed both Neighbors films due to their twist on the idea-but when a trend seeps its way into the consciousness of funny and creative people and convinces them that the default way to make audiences laugh is by writing about people who act outside their comfort zone for nothing more than the sake of potential embarrassment then it's time to reassess what kind of comedy really works and Rough Night feels like a prime example of why it's indeed time to reassess. Rough Night is a movie about bad decisions that makes a few of its own while the overall mood the experience will undoubtedly leave you with is one of indifference; indifference in the sense that it will be quickly be considered irrelevant so when, twenty years down the road, this premise is inevitably rehashed once again movie pundits will likely still look to Very Bad Things as a point of comparison rather than Rough Night. read the whole review at www.reviewsfromabed.com
Philip Price
Super Reviewer
½
As the girl power counterpart to Very Bad Things, the rowdy comedy Rough Night follows a group of broadly characterized friends through a night of mishaps, but the strangest development is that the funniest moments all center around the men. Jess (Scarlett Johansson) and her gal pals (Jillian Bell, Kate McKinnon, Ilana Glazer, Zoe Kravitz) are celebrating her bachelorette party when they accidentally kill a stripper. From there the ladies have to try and dispose of the body while not getting caught. The movie is rather slow to get started, establishing broad character types for each of the bachelorette partiers. It's once things get criminal that the movie enters more solid comedic ground. The acting ensemble is rife with terrific comedy stars that know how to hit their material in stride, in particular the boorish Bell and the goofy McKinnon. And yet it's the asides with Jess's fiancé Peter (Paul W. Downs, co-writer) where the movie hits its highest marks and delivers inspired comedy. At first the wild atmosphere of the girls' night out is contrasted with the quaintly tame boy's night out. Soon after Peter is worried something troubling has happened and is determined to travel nonstop to reach Jess. His traveling moments produce the most unexpected comedy, like a badass montage about something very uncharacteristically badass. It just kept going, trying to maintain the same demeanor, and I was almost in tears from laughing so hard. There's a sequence at a gas station that could be taught in comedy classes for how well structured and developed it plays out, tying together characters and conflicts and even ending on a sweetly jocular moment. It got to the point where I wanted to check back more often with Peter. I chuckled throughout Rough Night and the energy level of the actors keeps things eminently watchable but it plays it too safe for something so apparently transgressive. The sentimental moments don't feel earned and the dark comedy doesn't feel dark enough. Still, when it gets to be weird and unpredictable, Rough Night can be a delight. Nate's Grade: B
Nate Zoebl
Super Reviewer
Rough Night focuses more on the comedy than on the story. It isn't safe to say that story is more important than comedy, but in a genre that is in the comedy section, a story is arguably needed. Basic instructions of a movie is to make a story that at least feels like a great ride on a roller coaster. In this case, they failed to give much to the story by giving the comedy more than expected. Great on paper, terrible on screen.
EpicLadySponge the Adventurer
Super Reviewer
Rough Night Quotes
There are no approved quotes yet for this movie.
Discussion Forum
Discuss Rough Night on our Movie forum!