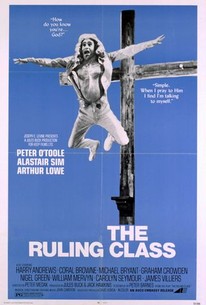 The Ruling Class
1972, Comedy, 2h 34m
12 Reviews
2,500+ Ratings
Rate And Review
Movie Info
When the Earl of Gurney (Harry Andrews) dies in a cross-dressing accident, his schizophrenic son, Jack (Peter O'Toole), inherits the Gurney estate. Jack is not the average nobleman; he sings and dances across the estate and thinks he is Jesus reincarnated. Believing that Jack is mentally unfit to own the estate, the Gurney family plots to steal Jack's inheritance. As their outrageous schemes fail, the family strives to cure Jack of his bizarre behavior, with disastrous results.
News & Interviews for The Ruling Class
Audience Reviews for The Ruling Class
Both the movie and its source material were written at a time when merely being outrageous was considered subversive so several sequences feel like mediocre late period Monty Python sketches. Still, its worth seeing for O'Toole who holds the movie together with a hilarious and occasionally terrifying performance.

This lightly known comedy is incredibly unorthodox and is really a hidden gem. The late Peter O'Toole is fabulous in his role as the heir to an Earldom and the Second Coming of Christ (in his own mind).

I was surprised by how thrown-together this movie seems to be. It is definitely ambitious in its biting social commentary; but, in the end, it ends up falling victim to its own outlandish charm. What starts off as a funny and searing look at British artistocracy quicky spirals into an acid-trip of a movie that is as discombobulated as it is filled with acting talent that is severely misused. Mind-blowing potential; mind-numbing payoff.

Top performance from O'Toole, with exceptional supporting work, especially from renowned character actor Alastair Sim. Fantastic dialogue, but that is because the script is adapted from a stage play (and the adaptation done by the same writer); at moments it is easy to tell that this is a stage adaptation even if you didn't know because of the short asides into the camera and general elevated form of dialogue. The selected filming locations are exquisite and film beautifully. Next to O'Toole's performance, my favorite element of the film is that it chooses to overtly blur the line between an objective reality and the subjective reality Jack is experiencing by seamlessly sewing the two together when the situation warrants it. First two thirds of the film is a romping satire and mostly all-out fun, which contrasts with the quickly darkening melodrama of the final act. Some viewers will be jarred by this transition, just as some other viewers won't recognize that the supporting characters are being genuine when they suddenly align themselves with Jack (when the prior scheme had been to remove him from his inherited lordship and return him to permanent mental illness institution). Even if the relationship chemistries feel weak at times, the main character's struggle never feels false but indeed takes on a mythical quality. This is a movie where I WANT so badly to rate it four stars, but I just feel that the scene progression jumps over some long periods of time too easily and that perhaps the scenes picked to be in the film aren't always the most significant to Jack's life (but perhaps that is because many of the scenes are of his most critical moments so anything else will feel pointless in comparison). Some of the editing is a bit rough, but I reckon that's because this was this director's first big outing. Bottom line is that the writer Peter Barnes delivers an excellent satire of English society, perceptions of mental illness, the "eccentric wealthy" character-type, family quarrels, and of the abuse of power and privilege.
See Details