Salaam-e-Ishq
(2007)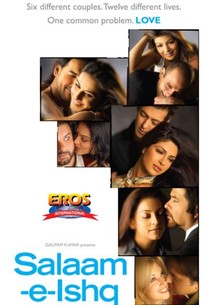 AUDIENCE SCORE
Critic Consensus: No consensus yet.
Movie Info
Six couples, all from different parts of the world and different walks of life, are all brought together by destiny, fate, and the power of love in director Nikhil Advani's heartfelt tale of romance. Tehzeeb (Vidya Balan) and Ashutosh (John Abraham) have been married for two years and are still deeply in love. When Tehzeeb is involved in a tragic accident, Ashu finds her devotion to her husband put to the ultimate test. Raju (Govinda) is a New Delhi taxi driver who has picked up passengers from the international airport for 15 years, all the while waiting for the appearance of his blonde-haired dream girl. When the woman finally does emerge from the bustling airport one day, Raju finds just how different fantasy and reality can truly be. Every day is the same for London-based PR worker Vinay Malhotra (Anil Kapoor). Awakening sunrise after sunrise in a picture-perfect suburban home, and always returning to a family that is happy to see him at the end of the day, Vinay discovers just how unpredictable the world can be when the beautiful and capricious Anjali (Anjana) determines to seduce the devoted family man and teach him the true definition of passion. Kkamini (Priyanka Chopra) is the bad girl of Bollywood cinema. Upon deciding to change her image for the better, this beautiful young actress finds her plans suddenly thwarted by the mysterious Rahul (Salman Khan). When consummate New Delhi bachelor Shiven (Akshaye Khanna) realizes that he is about to make the ultimate commitment in just ten days, the panic that follows finds him weighing the coming commitment against his much-valued freedom. Finally, newlyweds Ramdayal (Sohail Khan) and Phoolwati (Isha Koppikar) are eager to fulfill the lust that has been gradually building in each of them for years, yet their quest to satiate their driving desire is steadily thwarted by a series of tragicomic events. Eventually, each couple will come together to discover just how the purity of love can make even the most mundane of events both magical and ethereal.
Critic Reviews for Salaam-e-Ishq
Audience Reviews for Salaam-e-Ishq
Love this movie! A great movie!
Salaam-e-Ishq Quotes
There are no approved quotes yet for this movie.