Sasame-yuki (Fine Snow)(Hosone yuki)(The Makioka Sisters)
(1983)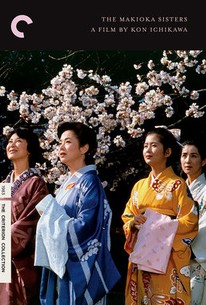 Sasame-yuki (Fine Snow)(Hosone yuki)(The Makioka Sisters) Photos
Movie Info
Heads turn as beautiful women in dazzling kimono glide through a cascade of cherry blossoms against a setting sun. Osaka, 1938, and four daughters of an old merchant family face all unknowing the end of a gentler way of life. Adapted from the classic novel by Junichiro Tanizaki - written as Japan burned around him during the War, even as he determined to preserve forever in his art a world he knew already lost - with director Kon Ichikawa (Burmese Harp, Fires on the Plain, etc., etc.) himself recreating the Golden Age of the Japanese Film, another world gone. A four season chronicle of Jane Austensian, Henry Jamesian, Anton Chekhovian incident, this was the director's dream for a quarter-century, and he brought to it his typically lush pictorialism and insidious black humor. Among the terrific ensemble cast, Keiko Kishi was midway through a six-decade career that included starring for Ozu and Kobayashi (and with Robert Mitchum); while Juzo Itami, multi-awarded as her husband, was about to begin a new one as director of The Funeral, Tampopo, and A Taxing Woman. -- (C) Film Forum
Critic Reviews for Sasame-yuki (Fine Snow)(Hosone yuki)(The Makioka Sisters)
Audience Reviews for Sasame-yuki (Fine Snow)(Hosone yuki)(The Makioka Sisters)
½
It is Osaka in 1938. Yukiko(Sayuri Yoshinaga) is inquiring about the state of the money left to her by her late parents which her older sister Sachiko(Yoshiko Sakuma) insists was meant to be her dowry. The youngest sister Taeko(Yuko Kotegawa) has similar concerns but is doing quite well with her doll business. Then, Tsuruko(Keiko Kishi), the eldest sister, arrives to inform them that Yukiko's latest suitor is no good since apparently his mother is mentally unwell. At least, Teinosuke(Koji Ishizaka), Sachiko's husband, likes the way she eats. All of that having been settled, the family repairs outside to look at the cherry blossoms. Directed by Kon Ichikawa, "The Makioka Sisters" is an engaging, if overlong, chamber piece. To be fair, after at least two or three endings, everything clicks together with the last scene, encapsulating all that has gone before. This is set in a heremetically sealed world where the cracks are starting to show, not only with Taeko's modern ways in contrast to Yukiko's traditional manners, but also with the advent of several technologies including photography, telephones, airplanes and the radio that are meant to bring people closer together but are instead separating them even further, with the family suffering as a result. Then there is war which is the greatest harbinger of change, whose horrors are kept at a distance(more on this later) but whose effect is being felt through shortages. It also probably explains why it is so hard to find Yukiko a match, as most of the potential partners are in their 40's. And what does it say about a man at that age who has not married yet in a culture that so values marriage?
Sasame-yuki (Fine Snow)(Hosone yuki)(The Makioka Sisters) Quotes
There are no approved quotes yet for this movie.