Screwballs
(1983)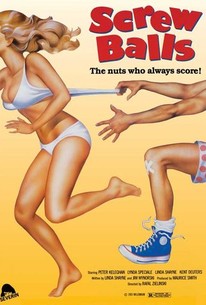 AUDIENCE SCORE
Critic Consensus: No consensus yet.
Movie Info
Five high school boys chase after "Purity" Busch (Lynda Speciale) for impure reasons in this undistinguished teen sex comedy that emphasizes the absurd (such as a bowling ball attached to a sensitive part of the anatomy, going down the lane for a strike), and points to its own buffoon-like quality in fast-forward segments. As the five try one mindless stunt after another to lure Purity into their clutches, many a viewer would fast-forward the 80-minute running time even further. ~ Eleanor Mannikka, Rovi
Critic Reviews for Screwballs
All Critics (3) | Top Critics (1) | Fresh (0) | Rotten (3) | DVD (1)
It's another one of the teenage sex movies that are hot at the box office this summer. And it's not the worst of its genre. It's a good-hearted, fairly harmless little movie, but if it's about anything other than T & A, I missed it.

Audience Reviews for Screwballs
½
No this movie isn't as poignantly raunchy as Porky's, but it's a lot of fun. The sex jokes are very clever, and although it's naughty it doesn't make you feel uncomfortable. The actors aren't very good, but they play the character types the way you expect them to, and that works with the kind of movie it is. Seriously, I was laughing a lot through this movie. It's not the best, but it's fun.
A wonderful little 80's sex comedy produced in Canada. This movie has it's mind on one thing and one thing only: Boobies. While serving their time in detention 5 horny teenage boys bet on who will expose Purity Busch's boobs. Purity is the living embodiment of innocence and is apparently the only female virgin at T & A High School, so this isn't going to be an easy task, BUT these boys are commited to their goal and will do most anything to succeed. Hilairty and boobies ensue. They just don't make em like this anymore. Despite the cheesy and sleazy aura this movie exhibits, it still manages to remain more or less innocent and good natured throughout its runtime, a statement that can not be said about more recent gross out sex comedies like American Pie, Superbad or others of that ilk. This is never offensive and was made to give its teenage audience what they really want. BOOBS. Actually delivers in terms of genuinely funny characters and situations as well, which seems to be a forgotten goal of comedy films these days. Recommended if you want something that is easy on the eyes, and delivers the laughs.
Ed Fucking Harris
Super Reviewer
The most juvenile T & A movie I've ever seen and thats saying something. "Strip bowling?!"
A.D. Villarreal
Super Reviewer
Screwballs Quotes
There are no approved quotes yet for this movie.