Second Skin
(2008)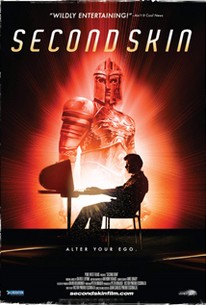 Movie Info
Since video games arrived on the home entertainment market in the '70s, they've grown in sophistication by leaps and bounds, and with the rise of the internet came games that allowed competitors in different parts of the world to challenge one another. The latest wrinkle in video game technology is the new genre of Massive Multiplayer Online Role-Playing Games (MMORPGs), in which literally millions of people can assume characters and interact in a digital environment though their personal computers and a high-speed internet connection. While games such as *World of Warcraft and *Everquest have become hugely popular, they've also raised concerns among parents, psychologists and sociologists who wonder about the long-term effects of spending prolonged periods of time in an artificial world, cut off from reality and conventional human interaction. Filmmaker Juan Carlos Pineiro Escoriaza examines the pros and cons of MMORPGs in the documentary Second Skin, which includes interviews with game enthusiasts, designers, psychologists and social critics who discuss why the games have become so popular, what dangers they pose, what benefits they present, and what can happen to those who become addicted to the online experience. Second Skin received its world premiere at the 2008 South by Southwest Film Festival.
Critic Reviews for Second Skin
Audience Reviews for Second Skin
½
A really good doc about people who play online games. We get to see a lot of people in this flick that range from the love birds who met online to the guy who almost becomes homeless thanks to his addiction to the game. While we do get to see the hard core gamers we don't really see any casual players and hear why they haven't crossed into the hard core. Maybe it's because there aren't many casual gamers. I liked how the doc was put together and the stories told were all compelling. A good watch for anyone who has a connection to anything like the online gaming world
Jason Spencer
Super Reviewer
I'm not sure why I'm drawn to these films, but I keep watching them. This one is another can't-look-away train wreck.
Want to feel better about your own life? Watch this collection of complete losers!
Martin Bishop
Super Reviewer
Second Skin Quotes
There are no approved quotes yet for this movie.