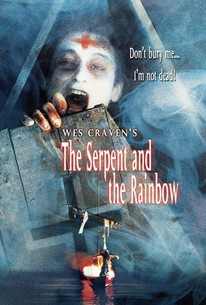 The Serpent and the Rainbow
1988, Horror, 1h 38m
36 Reviews
10,000+ Ratings
What to know
critics consensus
Although it's occasionally overwhelmed by excessive special effects, The Serpent and the Rainbow draws on a chilling atmosphere to deliver a intelligent, politically informed story. Read critic reviews
Where to watch
In Theaters
Rent/buy
Rent/buy
Rent/buy
Rate And Review
The Serpent and the Rainbow Photos
Movie Info
In a time of social and political unrest in Haiti, anthropologist Dennis Alan (Bill Pullman) travels to the torn country to study a Voodoo drug used in religious practices to turn victims into living zombies. With the help of a witch doctor (Brent Jennings) and a fellow researcher (Cathy Tyson), Dennis pieces together the deadly mystery. But as Dennis uncovers the secrets behind the mysterious powder, he must evade the Haitian authorities who view his research as a potential threat.
Audience Reviews for The Serpent and the Rainbow
When Bill Pullman is your most commanding presence, you can rest assured that the casting is pretty maladroit. In a precursor to the early 2000's torture porn, Pullman's scrotum is ruptured with a nail and aside from that unpleasant image, the film is piddling and not hair-raising in the least. Craven has always been an overpraised director of the horror variety and while the concept is brimming with occult potential, it is more suited to a documentary than a full-fledged chiller. To spice up the otherwise lumbering proceedings, Craven shoehorns a medley of hallucinations with corpse brides and reanimated zombies. None of these approach cohesion. All of the titillating genre elements are extraneous (the aforementioned dream sequences and a needless sex scene). In a career of monumental near-misses, 'The Serpent and the Rainbow' might be Craven's most bungled effort.

Voodoo based horror apparently inspired by a true story. When a researcher comes back a bit fucked up after a trip to Haiti he gets sent back again(?!) to find a powder that is meant help bring the dead back to life, as has been reported in sightings in Haiti. Obviously he's going to need help and gets teamed up at the island with a pretty nurse-type lady but there are certain people and powers that don't want him there and in the mysterious world of voodoo, anything can happen. It's not that bad, Bill Pullman is pretty good as the researcher and it gets better as it goes on with some decent dream sequences, creepy bits and stuff and its directed by Wes Craven so wasn't going to be a complete waste of time. Worth a look but overall The Serpent and the Rainbow is a little dull for far to long.

Craven comes up with enough memorable images that I'm willing to forgive the ridiculousness of the whole story. Also, that "hammer and nail" sequence is one of the most upsetting things I've ever seen.

Cheap special effects and a distracting plot leave The Serpent And The Rainbow colorless.
See Details