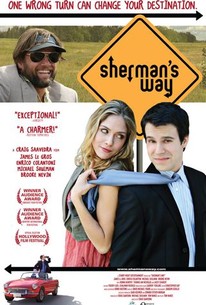 Sherman's Way
2008, Comedy, 1h 38m
18 Reviews
1,000+ Ratings
Rate And Review
Movie Info
An Olympic has-been and a law student learn important things about life, while on a strange journey.
News & Interviews for Sherman's Way
Audience Reviews for Sherman's Way
Cast: James LeGros, Enrico Colantoni, Michael Shulman, Lacey Chabert, Donna Murphy, Brooke Nevin, M. Emmet Walsh, Thomas Ian Nicholas, Tad Hilgenbrink, Tom Nance Director: Craig M. Saavedra Summary: When uptight Yale law student Sherman (Michael Shulman) gets dumped by his girlfriend (Lacey Chabert) and cut off from the family fortune in one fell swoop, he hitches a ride to Los Angeles with former Olympic ski champion Palmer (James LeGros) in this captivating indie comedy. A series of unexpected adventures with the eccentric slacker begins to open Sherman's eyes to some new realities. My Thoughts: "Anytime I see a film that involves a 'road-trip', I'm all for seeing it. Some are much better then other's, and this film falls in the other category. I didn't hate the film, I actually found it to be quite funny at times. But the acting and story could have been better. Also there wasn't much of a road-trip flick as it is just someone spontaneously hitch-hiking. They really only stop at one place. Palmer and his friend DJ are free spirits and lets life happen instead of trying to make it happen which is the opposite of Sherman. The longer Sherman is around these two gentlemen the more he comes out of his shell and as the saying goes, off his high horse. When Sherman meets the off-beat quirky Addy, the shell comes completely off and Sherman starts to come into his own person and not what his mother molded him into. There are many moments when the men try to get in touch with their sensitive sides, but as they are men, it soon turns into a joke or a snide remark. The film is funny and Palmer keeps the movie interesting. Worth seeing at least once."
See Details