Sidekick
(2005)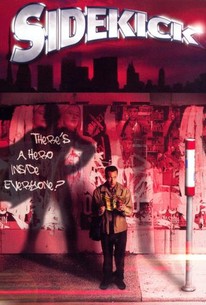 Movie Info
When mild mannered computer consultant and comic book fanatic Normal Neale discovers that his coworker Victor Ventura has telekinetic abilities, he makes it his mission to help Victor refine his powers and become a genuine superhero. Sure Norman may know his way around a computer, but his true passions in life are comic books and Andrea - the pretty office receptionist who who's never even cast him a second glance. Every night Norman goes home to his empty apartment and dreams of fighting crime on the streets. Then, one day, Norman realizes that swaggering salesman Victor possesses powers beyond his comprehension. After consulting with his best friend Chuck, a comic book store owner who knows a thing or two about superheroes, Norman realizes that it's up to him to help Victor realize the true potential of his power. Once Victor begins using his telekinesis to fight crime, Norman will become his sidekick and together this pair will make the city streets safe for law-abiding citizens. But as Victor begins to harness his powers, Norman is forced to confront the painful realization that some people just aren't cut out to be superheroes - even if they do possess superhuman abilities.
Critic Reviews for Sidekick
Audience Reviews for Sidekick
Woohoo! Score one for inventive Canadian cinema! Perry Mucci is so sweet and charming as Norman, and is wonderful especially in contrast to David Ingram's Victor. Norman, which slightly one-dimensional is endearing as the hopeless fanboy who clings to his co-worker. Victor is the most interesting character in this movie though, because little by little his true talent and, with them, colours start to show, all thanks to his nerdy little mentor. This movie may look like hell, but it's really pretty good.
Emily Armstrong
Super Reviewer
Sidekick Quotes
There are no approved quotes yet for this movie.