Sidekick
(2005)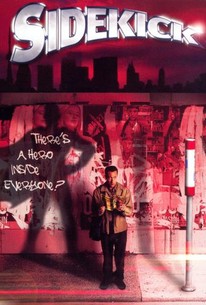 Movie Info
When mild mannered computer consultant and comic book fanatic Normal Neale discovers that his coworker Victor Ventura has telekinetic abilities, he makes it his mission to help Victor refine his powers and become a genuine superhero. Sure Norman may know his way around a computer, but his true passions in life are comic books and Andrea - the pretty office receptionist who who's never even cast him a second glance. Every night Norman goes home to his empty apartment and dreams of fighting crime on the streets. Then, one day, Norman realizes that swaggering salesman Victor possesses powers beyond his comprehension. After consulting with his best friend Chuck, a comic book store owner who knows a thing or two about superheroes, Norman realizes that it's up to him to help Victor realize the true potential of his power. Once Victor begins using his telekinesis to fight crime, Norman will become his sidekick and together this pair will make the city streets safe for law-abiding citizens. But as Victor begins to harness his powers, Norman is forced to confront the painful realization that some people just aren't cut out to be superheroes - even if they do possess superhuman abilities.
Rating:
G
Genre:
,
Directed By:
Written By:
In Theaters:
On DVD:
Runtime:
Studio:
Critic Reviews for Sidekick
Audience Reviews for Sidekick
Great concept, very poorly executed. This is geared toward the comic book crowd about a comic geek who meets a potential superhero. So he trains him, hoping to be his sidekick one day. But he turns into a supervillain instead. Visuals, camerawork, acting, costumes, and much more needed a hell of a lot of work to pull this off.
Tim Dickerson
Absolutely reeks of a low budget from its overacting actors to its downright garbage lighting to its lack of extras to its emo Linkin Park-style music. All that said and done, the script is solid. I can totally see why this has been optioned for a Hollywood remake.
Chris Hewitt
½
[font=Lucida Sans Unicode]Maybe you're not old enough to remember [i]The Power [/i]by Frank M. Robinson. ( I understand it's been updated and re-released - they tried to change some of the anacronysms.) That's not the point, really. The book had the most marvelous premise - someone with super powers uses them for ill (unlike X men, Superman, Spiderman, etc. ). The book was so memorable that, fifty years later, when I saw the Indie Movie [i]Sidekick, [/i]I immediately thought of [i]The Power.[/i][/font] [font=Lucida Sans Unicode][/font] [font=Lucida Sans Unicode][i]Sidekick[/i] is, admittedly, rough around the edges. I understand it was shot with a hand held camera. The acting is, at times, less than professional (except for Baldwin brother Daniel, who eerily sounds like his older sib Alec), and, because it was shot in Canada, several actors occasionally slip and say "aboot" instead of about. [/font] [font=Lucida Sans Unicode][/font] [font=Lucida Sans Unicode]But it moves along and engrosses the viewer and is blessedly short (87 minutes) at a time when movies are getting longer and longer. The writer(s) must have read Robinson's classic because the premise is similar. But now other elements are brought in - the comic book subculture of IT nerds, an exegesis of good versus evil, and the stereotypical corporate world.[/font] [font=Lucida Sans Unicode][/font] [i]Sidekick [/i]provides the perfect counterpoint to the current resurgence of superhero movies. Suffice to say, just as there were surprises in [i]The Power,[/i] there are surprises in [i]Sidekick. [/i]
Marcia De Fren
Sidekick Quotes
There are no approved quotes yet for this movie.