Silent Tongue
(1994)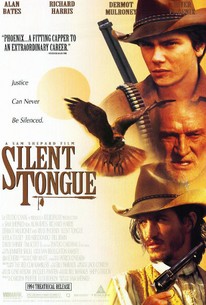 Movie Info
Playwright Sam Shepard wrote and directed this bizarre combination of western film revisionism and Greek tragedy. Silent Tongue (Tantoo Cardinal) is a mute Kiowa who is raped by Eamon McCree (Alan Bates), the owner of the Kickapoo Traveling Medicine Show. Eamon attempts to make up for his crime by marrying her, hoping for forgiveness. Instead, Silent Tongue enacts a bitter retribution through her two daughters, Awbonnie (Sheila Tousey) and Velada (Jeri Arredondo). Awbonnie, as the film begins, has already died, but her grieving husband Talbot (River Phoenix) refuses to let her go, dragging around her corpse. To assuage Talbot, his father Prescott (Richard Harris) sets out to purchase Velada from Eamon, thinking that only Awbonnie's sister can replace her in Talbot's eyes. But Velada's half-brother Reeves (Dermot Mulroney) protests the attempted transaction. As a result, Prescott kidnaps Velada and flees, with not only Reeves and Eamon chasing him, but also Awbonnie's ghost.
Critic Reviews for Silent Tongue
Audience Reviews for Silent Tongue
Silent Tongue Quotes
There are no approved quotes yet for this movie.