Fei ying (Silver Hawk)
(2004)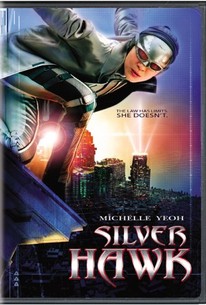 AUDIENCE SCORE
Critic Consensus: No consensus yet.
Fei ying (Silver Hawk) Photos
Movie Info
Hong Kong action star Michelle Yeoh serves as both producer and leading lady for this bit of slam-bang adventure. By day, Lulu Wong (Yeoh) is a mild-mannered environmental activist, but when the going gets tough, she transforms herself into Silver Hawk, a battle-ready heroine who finds herself chasing after Alexander Wolfe (Luke Goss), a suave British rogue agent. Wolfe has abducted a brilliant Chinese scientist (Chen Daming) who has invented a new artificial intelligence technology that could have dramatic worldwide impact; Silver Hawk sets out to find Wolfe and his captive before he forces him to reveal his secrets, but matters become more complicated when the daughter of a powerful industrial tycoon also goes missing. ~ Mark Deming, Rovi
Critic Reviews for Fei ying (Silver Hawk)
Audience Reviews for Fei ying (Silver Hawk)
Would make more sense as a parody. Also EVERYTHING in this film is silver and that's not an exaggeration.
Marcus Woolcott
Super Reviewer
½
So you thought 'The Avengers' was a good comic book flick huh? well move over Iron Man Captain America and Hulk...move over for Silver Hawk!!! Not too dissimilar from various other Far Eastern fantasy martial arts flicks, this film merely came to my attention due to the casting of Michael Jai White, Luke Goss and the gorgeous Michelle Yeoh. Its your basic comic book character action film but the hero is a heroine (Yeoh) and she isn't exactly a superhero but more like Iron Man, a person with money who fights crime in a nifty suit. Well I say nifty suit, this suit simply looks like silver spandex with some silver painted goggles on her head and a long silver flapping coat. The thing that is so silly with this is everyone is virtually dressed in silver, all the bad guys and henchmen are in silver armour and everyone uses silver weapons or gadgets. Surprisingly Jai White is a silent bad guy henchmen in this (looking like a certain character out of Mortal Kombat and with some Biggles head wear for some reason) and unsurprisingly Goss is the main villain. He is dressed in a Matrix style full length silver trench coat (indeed) with prosthetic silver metal forearms and looking like Richard O' Brien's brother. The action is tame but reasonably well choreographed, nothing amazing but it does the job with no strong violence or blood. All of the film is pure comic book silliness which does look like something made for TV but a lot of Asian movies can look like this. You could almost think of this as a Chinese 'Batman and Robin' complete with fighting bad guys on bungee ropes, rollerblading ice hockey bad guys and Silver Hawk has her own Batbike type vehicle, its just not as camp. Well...that is until you see Goss in his skintight shiny silver vinyl costume towards the end.
Phil Hubbs
Super Reviewer
½
Jingle Ma goes for the silver and not the gold with Silver Hawk.
The 90 minute story is moderately paced, but too simple and predictable to become anything worth remembering. The same can be said for a lot of the characters who are underdeveloped and over the top. The high usage of the English language by the characters is a letdown as well.
The action has its moments. The martial arts is stylized with some good choreography to show for it; however, the film style and music is a real setback during these segments.
Watching Michelle Yeoh playing the character that she does is a turn on. Richie Ren is a bit too eccentric for his own good and Brandon Chang is quite the annoyance. Luke Goss is OK, while Michael Jai White and Li Bingbing are underused.
At the end of the day, Silver Hawk is a watchable action adventure. Nothing more.
Fei ying (Silver Hawk) Quotes
There are no approved quotes yet for this movie.