Since Otar Left
(2004)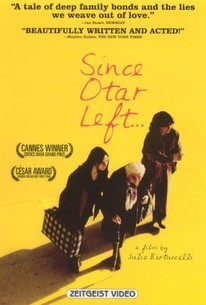 Movie Info
A family is forced into deception for the sake of their matriarch in this poignant drama. Three generations of women share a tiny apartment in Tbilisi, a Georgia city that has been devastated by war, political instability, and a ruined economy. Eka (Esther Gorintin) is an elderly woman whose health is failing, but her will remains strong and she holds sway over the household. Eka's daughter, Marina (Nino Khomassouridze), is a middle-aged woman who is still dealing with the devastating circumstances of her childhood and the death of her husband. And Marina's daughter, Ada (Dinara Droukarova), is a college student who feels trapped by her circumstances and abraded by her lack of privacy; she has a lover, but since she must share a bed with her mother, they can only make love in his car. The light of Eka's life is her son, Otar, who has fled Tbilisi and lives in Paris. Otar writes frequently and sends money as often as he can, and while Marina resents her mother's obvious favoritism toward her brother, she and Ada realize how important his letters are to her. While Eka is visiting friends, Marina and Ada receive devastating news -- Otar has died in Paris, and since he wasn't carrying his visa when his body was found, he's been buried in an unmarked pauper's grave. Afraid this news would be a severe blow to Eka's poor health, Marina doesn't tell her mother what has happened, and Ada begins writing letters as Otar to maintain the illusion that he's alive. The ruse works well enough until Eka announces she's raised enough money by selling her possessions to visit her son in France. Depuis Qu'Otar Est Parti... (aka Since Otar Left) is the first feature film from director Julie Bertuccelli; it received an enthusiastic reception when it was screened at the 2003 Cannes Film Festival.
Critic Reviews for Since Otar Left
Audience Reviews for Since Otar Left
Not a bad movie by any means, but I wouldn't go around recommending it either. It follows the story of three women who are in different stages of life, and live together and are challenged by the new world order...democracy. All three women do a great job acting out their parts, and extra praise must be given to the oldest of the three. I thought it was ok, but found nothing ground-breaking or cutting edge regarding the film.
Cynthia S.
Super Reviewer
[font=Century Gothic]"Since Otar Left" takes place in the former Soviet republic of Georgia which is not quite in complete working order. It is full of rolling blackouts and bureaucratic breakdowns. Elderly Eka(Esther Gorintin), middle-aged Marina(Nino Khomasuridze) and student Ada(Dinara Drukarova) are three generations who live in the same apartment. Marina's brother, Otar, is a doctor who is illegally working as a construction worker in Paris. Suddenly, they receive a phone call that he has died in an accident. Marina with a little help from Ada conspires to keep the news from Eka.[/font] [font=Century Gothic][/font] [font=Century Gothic]"Since Otar Left" is a wonderfully subtle look as to why people emigrate. Individual freedoms do not mean as much if your standard of living has greatly decreased.(Things have not generally improved since Georgia's independence.) So, if a person can make more money and live better as a construction worker in Paris, than as a doctor in Georgia, then why not relocate? And the ending is great, too. [/font]
Since Otar Left Quotes
There are no approved quotes yet for this movie.