Slice
(2018)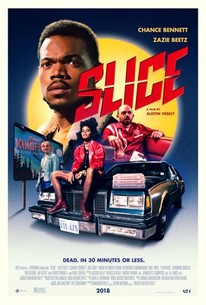 Movie Info
In a spooky small town, when a slew of pizza delivery boys are slain on the job, two daring survivors (Atlanta's Zazie Beetz and Chance the Rapper in a wild film debut) set out to catch the culprits behind the cryptic crime spree. Slice is Director Austin Vesely's first feature film after helming music videos for Chance's "Sunday Candy" and "Angels."
News & Interviews for Slice
Audience Reviews for Slice
When a film isn't afraid to embrace the world that it has created, that's an automatic plus for me, no matter what the final product is. A film can be absolutely atrocious, but still have the redeeming factor of not being afraid to stick to its guns. Slice is the latest in a long line of films to simply go for it from start to finish. While I knew what the plot of this film was, I wasn't expecting it to play everything with a straight face. Yes, this is definitely a movie that knows its premise belongs in the 70s or 80s, but if you enjoy low-budget, wacky stories, then Slice may be a lot of fun to you, as it was to me. In no way will this movie be remembered as one of the best of the year, but if you're looking for a creative 80 minute film to sink your teeth into, here's why I think Slice is worth it. Right off the bat, this film starts with a narration that sets you up for the movie you're about to witness. This is a murder mystery, set in a world where zombies, ghosts, werewolves, and a gateway to hell are all part of this reality. If the movie doesn't have your attention from that, then I'd recommend staying away. Introducing quite a few characters in order to truly get to the bottom of the murder at hand, this film takes its time to give you answers. It knows the type of movie it's trying to be, and the characters, along with all of their actions, feel like a B-movie that was released decades ago. This particular aspect of the movie kept me smiling throughout. Through her roles in both Atlanta and Deadpool 2, Zazie Beetz has been proving herself to be a very likable on-screen presence, and her role in this film only increased her likability in my opinion. Rae Gray brings a lot to the table with her performance and Joe Kerry's off-beat character is also very likable, but the biggest standout of this film, which is what I'm hearing most reviewers comment on, is Chance the Rapper. I had no idea that he had any interest in acting, but I thought he was quite good in this film and he truly embraces this character and the evolution of it. This is a very solid cast all around. What I find the most amusing about the production of this film, is the fact that the director (Austin Vesely) is most known for directing Chance the Rapper's music videos. This is his first feature film and I honestly can't wait to see what he chooses to attach himself to next. The way he was able to bring some of these strange characters to life on-screen was purely awesome. I don't usually use that term when talking about a movie, but I just had a blast with the way this film looked and felt. Overall, Slice actually has a fairly generic premise, but the world itself is what I would recommend watching it for. The characters, direction, and overall tone that this film sets is very amusing. I found myself smiling throughout the duration of this film, due to the fact that it felt like an idea that had been thrown away in the past for being too strange. It's not a perfect film by any means, but I truly don't believe that movies like this receive the attention they deserve. This is a perfect movie to put on when you're looking for something that you visually haven't seen much of before. Slice is, for lack of a better term, groovy.
Slice Quotes
There are no approved quotes yet for this movie.