Sommarlek (Summerplay) (Illicit Interlude) (Summer Interlude)
(1951)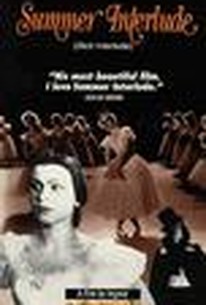 Sommarlek (Summerplay) (Illicit Interlude) (Summer Interlude) Photos
Movie Info
In this melancholy romance, a not-so-young ballerina recalls an earlier, tragic love affair. The heroine, Marie (Maj-Britt Nilsson), spends a summer with her possessive Uncle Erland (Georg Funkquist), who lives with his cancerous wife on an island near Stockholm. While staying with her uncle, who may have intimidated her into a sexual relationship, Marie befriends an innocent youth, Henrik (Birger Malmsten), with whom she soon falls in love. As the glorious summer comes to an end and autumn approaches, harkening Marie's return to the mainland and her dancing career, the lovers express their love to each other. But a fatal swimming mishap brings an end to the affair. Marie continues with her life, but she fails to come to terms with the tragic past. Later, Marie receives the diary that she kept during that memorable summer. She thereupon returns to the island, where she again meets her ghoulish Uncle Erland. Repulsed by his cynicism, Marie determines to recover her joy of living. She returns to Stockholm and shares the diary with her lover, a smarmy journalist (Alf Kjellin). In the concluding scene, she expresses her regained exuberance while dancing. A pivotal film in Ingmar Bergman's oeuvre, Sommarlek marked his maturation as a master filmmaker capable of evocative imagery and poignant expression. Of particular note are the unsettling scenes between Marie and her ominous uncle, framed and lit to emphasize the disturbing nature of their relationship. Maj-Britt Nilsson's performance as Marie is also remarkable, enhanced by Bergman's increasing mastery of the close-up. The splendid achievement of Sommarlek signalled a long succession of masterworks that ensued until Bergman's withdrawal from filmmaking in the 1980s. ~ Les Stone, Rovi
News & Interviews for Sommarlek (Summerplay) (Illicit Interlude) (Summer Interlude)
Critic Reviews for Sommarlek (Summerplay) (Illicit Interlude) (Summer Interlude)
Audience Reviews for Sommarlek (Summerplay) (Illicit Interlude) (Summer Interlude)
this film really seemed like a turning point for bergman. the film has a few of the signature bergman moments of stunning dialogue, although for the first time in his career to this point dialogue wasnt the real strength, i was more interested in the cinematography and locations. this film was shot so well and the emotional depth brought by a female character was also new and would become a staple for later films of his. a fantastic film.
½
Criterion have released another top notch transfer of a Bergman film that is beautiful to see on blu-ray! The film is classic Bergman, full of utterly depressing and bleak visuals and messages and at the same time very touching moments full of happiness are also seen throughout the film. A beautiful setting really sets the mood of the film and the landscapes and cinematography are so beautiful they really transport you there! The characters are immersed in this natural beauty and themselves beautifully brought to life through both the actors playing them as well as the writing. Their dialog is razor sharp and features Bergman's thoughts and beliefs dealing in life, death and of course religious overtones. This is a profound work that is as touching and happy as it is devastating and isolating. Another essential watch from the master of Swedish film, Ingmar Bergman! Highly Recommended!
Chris Browning
Super Reviewer
½
Among outstanding film directors there are those who crash in with debut features that show something of the full extent of their talent (Satyajit Ray with "Pather Panchali", Neil Jordan with "Angel" and of course Orson Welles with "Citizen Kane") and those like Ingmar Bergman who creep into the scene with films that are little less than mediocre, but who develop slowly, almost unobtrusively, giving only occasional hints of the glories to come. Bergman first came to notice as the proficient scriptwriter for Alf Sjoberg's "Hets", a 1944 shocker with echos of "The Blue Angel". Sjoberg's direction is impressive with much use of expressionist shadows and angles. The strange thing about Bergman's directional debut, "Kris", two years later is what little he appeared to have absorbed from his mentor. "Kris" is a very two dimensional work that could have been made by almost anyone. This was followed by several similar apprentice works which again give very little indication of what was to come. I would date the emergence of the original Bergman voice from the appearance of "Summer Interlude" in 1951. Although on the surface this appears to be a very conventional tale of an idyllic romance cut short by a tragic twist of fate, the sort of youth/love/death cocktail that was the mainstay of so much Hollywood drama ("Kings Row", "Love Story" and "Dead Poets Society"), the treatment is often very personal in a way that we can almost feel an innate artist struggling to express something beyond the superficial. It opens with a visually stunning series of still-life shots of the sort that Ozu always inserted between each short dramatic scene. We immediately feel this is a film that is demanding to be taken seriously. When the ballerina heroine takes a boat to the archipelago where thirteen years before she met the young man who was to become the love of her life, memory is unleashed and we relive in flashbacks her past happiness. Sometimes Bergman is in complete control of his material as when the ballerina leaves the boat and uneasy memories seem reflected in the sound of the wind and there is a silent encounter with a mysterious elderly woman whose path almost touches hers - a device he was to use to even more chilling effect years later when Liv Ullmann passes an elderly lady in the corridor to an apartment flat in "Face to Face". In other places his command is less certain and borders on cliche - when the doomed young man speaks of his premonition of something dark, and indeed the shot of a black cloud a moment after the accident that is to prove fatal. Bergman also makes the mistake of sometimes cluttering the narrative with supporting characters which add very little to the forward flow - the rather tiresome behind the scenes workers at the theatre. Although the film is a romantic tragedy it differs from the works of his central period in the way it comes to terms with life's misfortunes. The ballerina learns from her memories that her life has a continuation, that it is still possible to forge new relationships. Bergman was to regain something of this confident belief in the worthwhile qualities of life in later works like "Cries and Whispers" and "Fanny and Alexander" but not until he had become resigned to rather than angered by God's silence. It is perhaps significant that in "Summer Interlude", where he had not quite sorted out his responses to life or the medium in which he was working, the most powerful scene of all is where the ballerina rails at God's silence after her lover has been taken from her and craves for the opportunity to spit at God should he appear. There is not a single scene that expresses anything like this that I can recall in Hollywood drama. It indicates more clearly than anything else in Bergman's output up to this point the path he was about to take in expressing his dark vision of the world, one in which the conventions of commercial cinema were to have no place.
Cassandra Maples
Super Reviewer
Sommarlek (Summerplay) (Illicit Interlude) (Summer Interlude) Quotes
There are no approved quotes yet for this movie.