Stage Fright
(2014)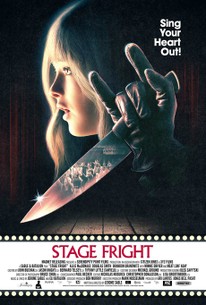 TOMATOMETER
AUDIENCE SCORE
Critic Consensus: There might be a good movie to be made from mashing up the slasher and musical genres; unfortunately, Stage Fright isn't quite it.
Movie Info
Starry-eyed teenager Camilla Swanson wants to follow in her mother's footsteps and become a Broadway diva, but she's stuck working in the kitchen of a snobby performing arts camp. Determined to change her destiny, she sneaks in to audition for the summer showcase and lands a lead role in the play, but just as rehearsals begin, blood starts to spill, and Camilla soon finds herself terrified by the horror of musical theatre. (c) Magnet
People Who Like this movie also like
News & Interviews for Stage Fright
Critic Reviews for Stage Fright
Audience Reviews for Stage Fright
½
I'd be lying if I said it was gold, but there is still a lot to find endearing about Stage Fright. Not least of which is the closing credits... That's not a dig either, the end credits are well worth sitting through if you do happen to be the type that watches Slasher Musicals.
½
Campy and fun, Stage Fright is a whimsical tale of murder and theater. When the Center Stage theater camp revives a production of The Haunting of the Opera a mysterious killer appears and starts killing off the campers. The musical numbers are pretty good, featuring catchy songs and impressive choreography. However, the story is kind of cliche and poorly told. The characters too are stereotypes without much depth. But despite its weak spots, Stage Fright is entertaining in a comically bizarre sort of way.
Dann Michalski
Super Reviewer
½
First of all, how cool is the poster for this film? Looks exactly like an 80s slasher horror poster. With that being said, I can't really say that this concept is unique to this film. Darren Bousman, director of Saw 2, 3, and 4, did a musical called Repo! The Genetic Opera about 6 years ago. Granted that was a sci-fi film set in a dystopian universe with some horror elements. The point is that this film isn't the first one to combine two vastly different film genres as horror/sci-fi and musicals. With that said, it still is a pretty novel concept. Novel enough to at least be given a shot. Let me say that I literally had no idea this film was a musical until the scene where the students arrive at camp and they have this big, rousing song about how they're finally where they belong. I had seen the trailer, but it, in no way, makes mention of the fact that it is a musical. This is both a blessing and a curse. A blessing because people might not even bother to give the film a shot if it's made obvious that this is a musical/slasher hybrid. On the other side of the coin, if you DID want a horror fix and you decide to give this film a shot, you might be disgusted once you get to the first musical number and shut off the movie completely. Either way you lose. As an aside, I'm personally not a big fan of musicals. I just think that, particularly if you're a drama like Les Miserables, I'm just taken out of the experience once someone starts to sing out exactly what they feel. Or if they burst out into a song and dance at the least opportune moment. It just completely takes me out of it. It's hard for me to me emotionally invested in something when every once in a while it just bursts into a music video. I've never seen West Side Story completely, and I was nauseated by the bits I saw. As far as movies like Ray, Walk The Line or the James Brown movie that just came out, there's a difference there where I don't mind it at all. That's because these people were musicians, music is what they were known for. They're performing their biggest hits in front of an audience, or in a studio. That's probably a big reason why the only musicals I have enjoyed have been comedies. Even movies like Pitch Perfect, it's all about the performance aspect of it. Groups of people getting on stage and performing. There's an inherent silliness to the whole concept of a musical that just begs to be mocked. And I tend to enjoy the musicals that poke fun at its silliness. I'm not saying all musicals suck, I'm just saying that, if you're telling a serious story, it's kinda hard to get emotionally invested when you're singing and dancing. This film, very obviously and openly, parodies musicals and how utterly silly it really is once you think about it. I don't wanna say that it completely mocks it, because I do think there is a certain amount of respect towards the musical genre in general, as all spoof films should, but I don't think it reveres the genre as much as Young Frankenstein revered the old Universal Frankenstein movies. Because of that perceived lack of respect, I think some musical geeks, and I mean that in the most affectionate term of the word, as I am a geek myself, might not really appreciate this movie's mockery towards their favored genre. If you had told me to picture in my mind what a slasher musical would look, and sound, like, I'm pretty sure I would come up with this movie. With that said, this movie, as you can see by the rating, isn't really even that good to begin with. I do think the film does manage to combine both genres without being an absolute abomination, though some of the musical numbers, at least the villain's, whose hard rock music sounds really cheaply produced. Yes, the villain has his own moment to shine as a singer. But I don't think this combination leads to as many funny moments as you would've hoped for considering the silliness of it. Some of the musical numbers are certainly inspired, and there's some really genuinely funny moments, just not as many as you would've expected. I have to give props, at the very least, to Jerome Sable, who both wrote and directed the film, for at least trying something a little different, a little silly, and imaginative. It would've been so easy to just repeat what countless other slashers have done before, but he wasn't happy with that. I always appreciate when filmmakers step out of the boundaries that certain genres, or fans of that particular genre, have set for itself. That is to be admired and applauded. And I look forward to any future works from Mr. Sable. Particularly if he decides to make another horror/musical. I think this is the first step to something great. I just found the film a little too inconsistent to be good. The acting is fine, nothing to write home about, but it gets the job done. But, and this has nothing to do with the review, where has Allie McDonald been all my life?!?!?! Gorgeous girl and a good actress to boot. I hate to sound incredibly shallow, but I couldn't help but notice her. If you're a straight dude, or lesbian female, or someone that can SEE, then you're gonna notice her. The gore itself is pretty good, it's certainly as over the top as it can be, but it is pretty good. So horror fans shouldn't beware that they won't get their fix with this film. It has some good execution, but ultimately it falls short. It was on its way, but it doesn't quite get there. Still, I think this film has a good enough concept to at least be given a shot. Might not be a hit with everybody, but it's different enough to be worth, at least, a Netflix recommendation.
Jesse Ortega
Super Reviewer
Stage Fright Quotes
There are no approved quotes yet for this movie.