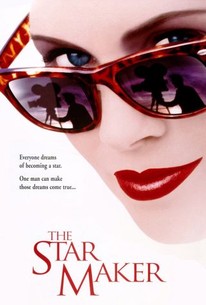 The Star Maker
1995, Drama, 1h 53m
12 Reviews
1,000+ Ratings
Rate And Review
Movie Info
A con man (Sergio Castellitto) posing as a talent scout charges Sicilian townspeople for screen tests, then feels pangs of conscience.
Audience Reviews for The Star Maker
Who is that woman in the poster? This movie about movies is nice but not nearly as well-put-together as <i>Cinema Paradiso</i>. Some of the villagers' screen tests/confessions are moving and revealing, but there are too many commonplace ones that slow down the pace at the beginning. As such, Joe and Beata's love story doesn't have time to develop. Who IS Beata? Why does she seem to be the only audition to move Joe? The sex scene is pretty hot though.

'Tomorrow is another day.' A memorable and heart wrenching tribute to Sicily! This film captures the soul of the Sicilian post-WWII experience, candidly revealing its peoples joys and sorrows, desires and dreams. The Roman con-man, Morelli, drives through Sicily posing as a film talent scout, charging 1500 lire for a screen test. Traveling through the island's rugged, natural beauty, we observe an agricultural economy, devastated by war and peppered with villages dominated by a church, piazza and, sometimes, a tiny cinema. This is an older, harder way of life, entrenched in poverty and corruption. And, the faces, the faces stamped by experience, so many, varied and revealing faces: the young and old, rich and poor, crazy, the 'seduced and abandoned,' whore, and homosexual; the carabinieri, the mafia, monarchists, anarchists, fascists, communists, and Christian Democrats. Every townsperson has a dream to escape for a better life. Appearance and performance are embedded in Italian culture: All Italians are born actors! Many American viewers may not realize that the possibility of starring or participating in movies was a very real one at the time. By definition, the neo-realist directors used natural settings and non-actors in their films; People were selected for their faces and distinct characteristics. Female, Italian screen stars, such as Magnano, Bose, Lollobrigida, Loren and Cardinale, launched their film careers by winning regional beauty contests. Some auteurs actually preferred non-professional actors to achieve their cinematic visions because they required minimal coaching and could be directed. Rossellini tied a string to a non-professional's toe and tugged on it when he wanted him to move. Fellini was notorious for providing no dialogue until shooting the scene and posing his characters, earning him the moniker of puppet master. So, although Morelli exploits the Sicilians' hopes, he also makes no promises. His crime is not the swindle, but his disrespect for his inadvertent role of confessor. He is imprisoned for violating trust and dishonoring the Sicilian people. Morelli's return to the mainland of Italy is a poignant, poetic, unifying and redemptive montage of Sicilian experience, national identity and humanity. This film is deserving of much more acclaim and credit than it has earned.

Joe Morelli is a scoundrel who cheats illiterate sicilian villagers with dreams of stardom, shooting faux screen tests from town to town until unusual circumstances force his prosperous swindling business to end on sour note. Great performance by Sergio Castellitto, as an irascible demagogue who stirs up the masses. Arousing the wishes of peasants, criminals and officials, gaining tremendous popularity among them, especially in a young, beautiful and impressionable girl named Beata. Follows the same tread of "cinema paradiso" and though it can't reach the level of poetry and pathos of that film, it has wonderful moments too.

Nominated for best Foreign Movie, The Star Maker showed a fake movie director heading to Sicily where he pretended to be a scout for movie studios of Rome. But, in fact, his camera was stolen and had no tape in it. He steal money from these poor villages, who were full of dreams to become movie stars. He gave them auditions where they talk with their hearts with very deep emotions. Only a teenager took this dream very seriously, and left with this fake director.It was a movie about the desire for celebrity, dreams and living in poverty. Sergio Castellito, gave a very strong performance as the fake director.
See Details