Star Trek III - The Search for Spock
(1984)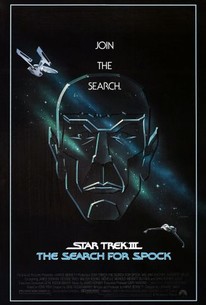 TOMATOMETER
AUDIENCE SCORE
Critic Consensus: Though it may be short on dazzling special effects, The Search for Spock is still a strong Star Trek installment, thanks to affecting performances by its iconic cast.
Star Trek III - The Search for Spock Photos
Movie Info
Star Trek II ended with Spock presumed dead, but this film reveals that his consciousness survives within McCoy. Spock's body and consciousness must be quickly reunited or his death will be certain, and McCoy will be left insane. Racing against time, Kirk makes painful sacrifices trying to save his friends.
People Who Like this movie also like
News & Interviews for Star Trek III - The Search for Spock
Critic Reviews for Star Trek III - The Search for Spock
Audience Reviews for Star Trek III - The Search for Spock
½
This third Star Trek film works as a bridge between the second and the fourth cinematic chapters, with decent drama and good performances by our well-known cast, even if the plot is super convenient and lacks the same impact of The Wrath of Khan.
Carlos Magalhães
Super Reviewer
To this day it still seems a funny choice to have cast Chris Lloyd as a Klingon. Such a wiry guy with a weak parched voice and definitely more of a comedic actor. I'm not sure he pulled it off really, I can see his other amusing film characters shining through every time he's in shot and he's not really very threatening. There isn't really any reason for him to be involved either, he's just there, in space, for no reason and decides to go after the Genesis data, no background at all. So despite a slightly weak villain the main plus point is that the continuity carries on nicely from the second film with everyone present and correct accept the character of Saavik (no longer Alley), of course the plot carries on nicely also. It actually feels very much like a huge film cut in two (this and the previous movie) or back to back filming, not much difference between the two. The story does feel rather contrived with a major U-turn, Spock had been killed off in a grand heroic manner to end the film franchise or so we all thought. The second film did well (unexpectedly) so they had to think of a way to bring him back to life so the franchise could be milked further. Or as I said in my review of 'WoK' it was all a cheap tactic to get bums on seats for this third sequel. This does equal much spiritual Vulcan jiggery pokery which is interesting but at the same time a bit heavy and tends to drag the sci-fi down into another realm or genre even. Personally I didn't like that side of the story, it just didn't really work for me and its all too convenient...and convoluted. The whole idea of Spock being reborn on the Genesis planet due to the Genesis device felt kinda stoopid and very convenient. Oh and he managed to transfer his spirit (or Katra) into McCoy, which was also kinda convenient (there's that word again), before he died apparently. So now if the aging crew can nab Spock's rapidly growing body (which stops growing at the exact same age he died at it seems...convenient) they can stuff his Katra back into it from McCoy, easy (but dumb). I have always thought that the story behind David being Kirk's son was never really explored properly either. We discover this revelation in 'WoK' but its so subdued I would of thought we might get more in this third film...but no. Even in death Kirk's son gets no real epic send off, the whole thing from start to finish is glossed over pretty lazily really, oh well. Everything else within the film is pretty much the standard look and feel of the second film simply carried on, nothing much to rave about really, its all quite average. Effects are still rather average to be frank, the starship sequences look a touch neater but still relatively similar to the previous movie. There was a new design for the Federation starships with the Excelsior which had sleeker lines and was overall much more curvy. Its still the same design essentially but I guess it does look more modern, of course this shape served as the first in a long series of similar designs as the franchise continued. The other flashy new toy for the franchise was the big Earth Spacedock which was admittedly pretty sweet looking. It had a nice sensible and expensive looking design and more importantly it looked realistic, not at all hokey. This one model gave the whole Star Trek universe real gravitas, a real grown-up science fiction vibe and of course again served as a role model (no pun intended) for the rest of the franchise outings. Unfortunately the planet surface of Genesis has some nasty obvious set work accompanied by some even worse destruction effects as the planet disintegrates. Kirk and company even remain in the same uniforms for this continuing adventure! Both the second and third films have one other plus point in their favour and that was Horner and his instrumental score. The first film lacked a good score but this is fixed with gusto by Horner as he provides much needed emotion and vigor to the films. That was one reason the first film seemed a bit limp at times. Its all a bit hokey in all honesty, almost like a young teens comicbook film. It does seem like this story idea could simply be a small chapter in the Trek universe that could of been explained within a TV episode, there really aren't any outstanding movie moments at all. Speaking of hokey...don't you just love seeing Shatner in fist fights, the finale fight between Kirk and Kruge really was pretty dire to say the least sheesh! Talk about fluffy theatrical fisticuffs! never at any point does it look real or remotely intense, lets face it neither actors are the athletic fighting type. Absolutely terrible yet probably close to the classic Star Trek series of the mid 60's. I did enjoy that scene, its a guilty pleasure for sure. The whole film does feel very much like a made for TV movie and only slightly less cheaper looking than the second. The acting is wooden but that is part of the charm admittedly, we expect that, but the film just doesn't have any cinematic impact whatsoever. Funnily enough this film does also feel closer to its TV origins than the semi serious sci-fi of the original (as did 'WoK'), I put that down to the low production values of pretty much everything...cardboard cut out effects and hokey-ass sets. End of the day you just can't go wrong with a good old fashioned adventure with the old crew of the Enterprise. This film is easily worse than 'WoK' but it still manages to be fun in a very silly quirky way whilst remaining faithful to original source material. Its just a shame it looks so bad for the most part...but I can't deny its a reasonably good romp if you lower your expectations. Keep an eye out for the small cameo by Miguel Ferrer as a crew member onboard the [i]Excelsior[/i].
Phil Hubbs
Super Reviewer
½
Third film in the Star Trek series picks up where the Wrath of Kahn left off. The Search for Spock manages to be quit a good affair, and is an entertaining picture from start to finish. The cast of the first two films return and deliver some effective performances. I'll be honest here, for Science Fiction filmmaking, this franchise never really stood out for me, and I think that the Star Wars films are much better in terms of excitement, thrills and storytelling. After the very good follow up to Star Trek: The Motion Picture, Wrath of Kahn, The series would go in new territory and improve upon each new release. I really enjoyed this third film, and thought it was an entertaining adventure film that is sure to thrill viewers that enjoyed the first two Star Trek films, especially Wrath of Kahn. The film has some good performances, a good story and very good direction as well. The film has an effective blend of action and adventure, and overall this is a well crafted third film in the series. Fans of Star Trek will enjoy this picture, as well as Science Fiction fans. This is a terrific film well worth seeing if you've enjoyed the first two. With each film, the filmmakers seemed to really improve on the formula, and that is very much the case here with The Search for Spock. I've never been big into Star Trek, but I'll admit, I quite enjoyed this one, and felt it built upon what the second one did so well. This is worthwhile entertainment, enough to appeal genre fans looking for a pleasant time waster to watch.
Star Trek III - The Search for Spock Quotes
| | |
| --- | --- |
| "Mr. Adventure": | Well -- what are we going to do about it?! |
| Uhura: | I am going to do nothing about it. You are going to sit in the closet. |
| | |
| --- | --- |
| James T. Kirk: | My God Bones, what have I done? |
| Leonard "Bones" McCoy: | What you had to do. What you always do. Turn death into a fighting chance to live. |
| | |
| --- | --- |
| Hikaru Sulu: | The word sir? |
| James T. Kirk: | The word? Is no. I am therefore going anyway. |
| | |
| --- | --- |
| Capt. Styles Excelsior: | Ah, Mister Scott... Calling it a night? |
| Montgomery "Scotty" Scott: | Ah, yes, sir. |
| Capt. Styles Excelsior: | Turning it in myself, looking forward to breaking some of the Enterprise's speed records tomorrow. |
| Montgomery "Scotty" Scott: | Ah, yes, sir... Good night. |