Steal a Pencil for Me
(2007)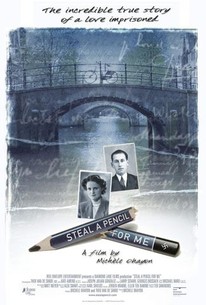 TOMATOMETER
AUDIENCE SCORE
Critic Consensus: Steal a Pencil For Me is a unique Holocaust story that pays tribute to the strength of the human spirit in the face of enormous hardship.
Steal a Pencil for Me Photos
Movie Info
A man, his wife, and the woman he has fallen deeply in love with experience jealousy and heartbreak while housed together in the same barrack of a World War II-era concentration camp in Oscar-nominated director Michèle Ohayon's (Cowboy del Amor) unflinching look at love in a land ravaged by war. His marriage already failing when he and his wife were assigned to live in a concentration camp, Jack soon found comfort in the arms of new love interest Ina. Though his wife voiced vehement objection to the relationship, Jack continued to communicate with his newfound love in a series of furtively penned love letters. It was through these clandestine correspondences that Jack and Ina were eventually able to gain the strength needed to get through such a dark time, but as the war draws to a close all three survivors are forced to make some difficult, and potentially life-altering, decisions.
News & Interviews for Steal a Pencil for Me
Critic Reviews for Steal a Pencil for Me
Audience Reviews for Steal a Pencil for Me
[font=Century Gothic]Boy, have Jaap Polak and Ina Soep got a story to tell their grandchildren(and great grandchildren) 60 years after they got married of how they fell in love in concentration camps during World War II. By showing how precious life is, "Steal a Pencil for Me," is a very touching and moving documentary about their experiences. [/font] [font=Century Gothic][/font] [font=Century Gothic]The two had met in Amsterdam before the Nazis invaded, coming from different ends of the social spectrum in the Jewish community. Jaap was an accountant, unhappily married and ten years older than Ina who came from a wealthy family. All of which is important to remember when Jaap notes the poor were forcibly relocated to the camps before the rich were. Despite their differences, they both ended up in the same camps, Westerbork(which was originally built for German refugees) and Bergen-Belsen. Jaap makes a distinction between concentration and extermination camps which is the difference between Bergen-Belsen and Auschwitz. Even though being in Bergen-Belsen gave them a chance for survival, it was still no picnic as food was scarce, while typhus was rampant.[/font] [font=Century Gothic][/font] [font=Century Gothic]By having two people detailing what they had to endure to survive the Holocaust against huge odds, "Steal a Pencil for Me" excels in its recollection of the genocide(The scenes at Westerbork were shot by the camp commander to show off). And today, Jaap and Ina talk to people from Los Angeles to Holland about the Holocaust, so that it is never forgotten.[/font]
Steal a Pencil for Me Quotes
There are no approved quotes yet for this movie.