The Strange Woman
(1946)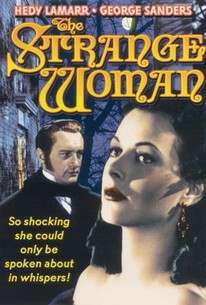 Movie Info
B-movie auteur Edgar G. Ulmer managed to direct a few A-pictures during his long career; he was personally selected by Hedy Lamarr to helm this big-budget thriller, a project she put together to change her image as a starlet whose sex appeal outweighed her acting abilities. Set in the early 19th century, The Strange Woman takes place in Bangor, Maine, where logging and lumber mills have made the town prosperous. Jenny Hager (Lamarr) has grown up in Bangor, not far from the watchful eye of wealthy Isaiah Poster (Gene Lockhart). The fact that Jenny is twenty years Isaiah's junior does not stem his amorous intentions, and when she's finally out of her teens, Jenny accepts his proposal of marriage. But beneath her sweet exterior, Jenny is a shrewd, conniving women, and while she makes a fine life for herself with Isaiah's money, she obviously doesn't care for him. When Isaiah's son Ephraim (Louis Hayward) visits from college, Jenny is immediately attracted to him, and she tells him that she'll marry him if he murders his father. But, unknown to Ephraim, Jenny is already scheming to win the affections of businessman John Evered (George Sanders), even though he's pledged to marry her best friend Meg (Hillary Brooke). Based on a novel by Ben Ames Williams, The Strange Woman was generally considered one of Hedy Lamarr's best performances, although her best-known performance would continue to be in Ecstasy (1933), largely because of her then-daring nude scenes.
Rating:
NR
Genre:
,
Directed By:
Written By:
In Theaters:
On DVD:
Runtime:
Studio:
Critic Reviews for The Strange Woman
Audience Reviews for The Strange Woman
½
A young girl, Jenny, vows to have wealth when she grows up. Wow, what a novel thought! This gal comes off like Vivien Leigh from Gone With the Wind. She's full of tricks and full of mischief. She says to a girlfriend about her boyfriend's desire to wed her: "I wouldn't give him a chance to think". The film has a lot going for it in a lot of ways. Its well made, well acted and pretty good story. This one is up for grabs as everyone will have their own opinion about it. I would say its worth watching if you like Scarlet O'Harra types in the lead roll (scheming, ambitious femmes). [img]http://t0.gstatic.com/images?q=tbn:ANd9GcTiFbpzJ2Ts09a1WP3fuvai3cYkSeH-p5s4Sg8QkyS6x-hz7c8K[/img] Here she has her hooks into her friend's man! See the film at: http://www.youtube.com/watch?v=gtuw4ETvOkY Cast Hedy Lamarr as Jenny Hager [img]http://t1.gstatic.com/images?q=tbn:ANd9GcR0m0_IBDYfBXNl05hCG_w08FZ1zyY_WzBgIuP-iK8tmq9XL-x-Zg[/img] George Sanders as John Evered Louis Hayward as Ephraim Poster Gene Lockhart as Isaiah Poster Hillary Brooke as Meg Saladine Rhys Williams as Deacon Adams June Storey as Lena Tempest Moroni Olsen as Rev. Thatcher Olive Blakeney as Mrs. Hollis Kathleen Lockhart as Mrs. Partridge Alan Napier as Judge Henry Saladine Dennis Hoey as Tim Hager [img]http://t2.gstatic.com/images?q=tbn:ANd9GcQAoUFQyceTe50txu2U0cA9Su5kVY7pQirdPSeVVW4zrzFZYz3x[/img] Directed by Edgar G. Ulmer Produced by Jack Chertok (producer) Hedy Lamarr (executive producer) Eugen Schüfftan (producer) Hunt Stromberg (executive producer) Written by Ben Ames Williams (novel) Herb Meadow (screenplay) Hunt Stromberg (writer) Edgar G. Ulmer (writer) REVEIWS of the film: 1 Beautiful and sociopathic Jenny Hager (Lamarr) vamps her way through early 19th century Bangor, spreading heartbreak, mayhem and murder. [img]http://t1.gstatic.com/images?q=tbn:ANd9GcQkJxJ-NHuWsE7a8_ALBbs1iOFxCed09XHpIG66nYQwWECsSFU[/img] 2 Atmospheric and moody, with a good pace. Hedy Lamarr is well cast and the supporting cast is very good, especially George Sanders. 3 Beautiful Jenny Hager finds she can always get what she wants from the men in the 1820's port of Bangor, Maine. Freed by his death from her drunkard father she soon manoeuvres herself into a position to marry a middle-aged monied local businessman. Though she often uses his money to do good, she continues to consider all other men fair game. 4 Typical modest budget black and white film from director Edgar G. Ulmer. A tedious but interesting tale of a beautiful woman (Hedy Lamar) stalking man after man in the lumber country of Bangor, Maine circa 1820. Love 'em and leave 'em. Cinematography Lucien N. Andriot Editing by John M. Foley Richard G. Wray Distributed by United Artists Release date(s) 25 October 1946 Sound Mix:Mono (Western Electric Recording) Color:Black and White Running time 100 minutes [img]http://t3.gstatic.com/images?q=tbn:ANd9GcSXxU3Oq7kyyaEGSVdOoBDi1-mP7lNfsgndCIGbII68fVhAxroR[/img]
monsieur rick
½
This Film I obtained from the Mill Creek Dark Crimes Collection. Directed by Edgar G Ulmer and at times I could see some Hitchcock influence in this movie, Women haven't changed much since 1946 as this one schemes to get everything she wants, including any man no matter if she's married or not. All about cheating and where it leads to. A film way ahead of its time in 1946. Video quality could have been better, you might be able to see this through internet archives. 3 1/2 stars 3-14-13
Bruce Bruce
Super Reviewer
If you can put aside the fact that the lead character has a viennese accent and her father an irish one when they are both natives of Bangor, Maine then there is much to enjoy here. Hedy, stunningly beautiful as always, plays a deeply conflicted woman well and though the film veers wildly from morality tale to lurid melodrama it is certainly more fun than a lot of more highly thought of films.
The Strange Woman Quotes
There are no approved quotes yet for this movie.