Street of Shame
(1956)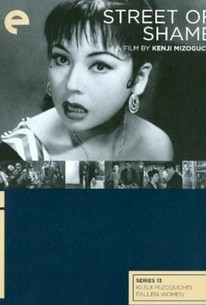 Movie Info
Kenji Mizoguchi's final film was on one of his favorite subjects: prostitutes. After a spate of universally lauded period pieces, Mizoguchi returned to the socially conscious dramas that he made famous in the 1930s. Here, as in Osaka Elegy (1936), he offered a scathing critique of society's hypocrisies and exploitative treatment of women, without the sort of transcendence seen in Life of Oharu (1952). This gritty drama of six working girls in one brothel in Tokyo's Yoshiwara red-light district explores how the women came to work in such a place -- trying to pay for their children's education, trying to bail their fathers out of prison, trying to support their out-of-work husbands -- and how they fight to maintain their dignity in spite of the degradations of their profession. Machiko Kyo gives a remarkable performance as Mickey, a cynical hooker with a heart of stone, who shames and then cruelly propositions her own father, while Aiko Mimasu plays the aging Yumeko, who is emotionally shattered after her son rejects her. This film was reportedly instrumental in the outlawing of prostitution in Japan.
Critic Reviews for Street of Shame
Audience Reviews for Street of Shame
Mizoguchi's last film illustrates why prostitutes "have" to do what they do, instead of only "why". The film follows many prostitutes working during a time when prostitution was being legally challenged in Japan. Their lives all intersect at a club where they serve new clients on a nightly basis. One prostitute is a ruthless con who ends up tricking a merchant out of his business and 250,000 yen. Another is a woman who sold herself to support her son, but her son, unable to deal with her profession and past, rejects her. Another sells her body to support her ill husband and infant child. Then there is one who is a young delinquent and we learn that she does so probably out of spite for her father's behavior in the past. The heartbreak of a prostitute who tries to flee the business but realizes that: her husband is using her, that married life is too difficult, and earning a living by other means doesn't pay enough, sums up how trapped the prostitutes are. It is strange and sad to see that all are in the profession for only money and desperately want to leave, but can never generate enough cash. The exception is Yat-chan who tricks the merchant, then in the end takes over his store and thus frees herself from the business. However, the departure of one prostitute signals the coming of another as we see a young girl on her first night trying to bring in customers; her uncomfort with her situation mirrors the audiences. The great effectiveness of the film lies in being able to portray the horrible and difficult lives of prostitutes so matter of factly, that is where the real shock lies.
mizoguchi's last film sees the elegant geisha of his earlier period films fallen to the level of common prostitutes in the post war period. each of the five or so main characters have distinct personalities and very different reasons for and ways of dealing with their work and its consequences. machiko kyo, the beautiful ghost from ugetsu, is especially striking as cynical modern girl mickey.
Stella Dallas
Super Reviewer
½
[font=Century Gothic]"Street of Shame" takes place as a bill banning prostitution is debated while business as usual goes on in a brothel in the red light district in Tokyo where Yasumi(Ayako Wakao) is consistently the best earner. Hanae(Michiyo Kogure) and Yumeko(Aiko Mimasu) are also both mothers. Yumeko is trying to reconnect with her grown son while Hanae is the sole breadwinner for her ill, unemployed husband and infant son. Enter Mickey(Machiko Kyo), a brash newcomer...[/font] [font=Century Gothic][/font] [font=Century Gothic]Directed by Kenji Mizoguchi, "Street of Shame" is a bleak examination of prostitution in postwar Japan. The conclusion here is that outlawing it will not do anyone much good(and it has not anywhere else for that matter) because the underlying causes are found in the ruins of the economy. And it does seem that all of the women carry a huge debt around their necks and that in a extremely lean job market as this, this may be the only possible recourse. While this may seem desperate on their parts, the alternative is far, far worse.[/font]
Street of Shame Quotes
There are no approved quotes yet for this movie.