Struck by Lightning
(2013)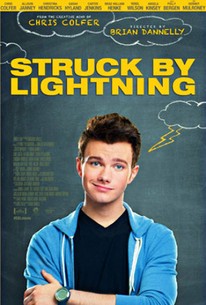 Struck by Lightning Photos
Movie Info
High school senior Carson Phillips (Chris Colfer, "Glee") was on a path to greatness, when he was suddenly killed by a bolt of lightning in his school parking lot. Carson recounts the last few weeks of his life via witty, insightful flashbacks, including a blackmail scheme targeting the popular kids concocted with his best friend (Rebel Wilson, BRIDESMAIDS) and a home life that includes a mother (Allison Janney, JUNO, "The West Wing") 's more interested in the bottle than her son's future and an estranged father (Dermot Mulroney, MY BEST FRIEND'S WEDDING) who suddenly appears with a pregnant fiancée (Christina Hendricks, "Mad Men"). (c) Tribeca Films
News & Interviews for Struck by Lightning
Critic Reviews for Struck by Lightning
Audience Reviews for Struck by Lightning
½
I guess I was expecting the movie to be funny considering it listed as a comedy. Instead what I got was a quite dark and depressing film about a boy desperately wanting to escape his life. I couldn't find any of the characters likable. Especially the MC Carson. He is very cynical of everyone and quite closed off and a bit bratty when he doesn't get his way. I did like Rebel as Malerie. But the rest of the characters where dull and boring. The acting wasn't so great either. A decent movie but nothing worth seeing again.
♥˩ƳИИ ƜѲѲƉƧ♥
Super Reviewer
½
I really enjoyed this. I thought it was really funny but also poignant. I liked the message in their about staying true to yourself and how it's important to dream and have aspirations. Sure, Carson could kind of be a jerk sometimes but you could see why he was so sarcastic. I think it was his way of dealing with the crap in his life. His mom was pretty much an alcoholic, his dad left them and didn't seem like he wanted to be a part of his life. Not once, while he was April (hid fiancee who was 6 months pregnant) did he ever mention that he had a son. His grandma has Alzheimer's. She doesn't even seem to remember him most of the time. But even so, I dont think he was always a jerk. I really liked the scene with him and Claire (Sarah hyland) where he asks her why she thinks she'll never make it out of this town and do better for herself. And he talks about how in grade 2 she told everyone she wanted to be a ballerina, and he asks "What happened to that girl?". And as she responds that everyone laughed at her. He tells her "I never laughed". I think its sweet that he wanted her to do something that SHE wanted. The ending had me in tears. It was sad of course that he died and didn't go on to college and do the things he wanted, but he did inspire people while on earth and I thought that was powerful in a way. I also cried for his mom Cheryl (Alison Janney) when she finds out that he dies. The way she keeps calling him and hoping that its just some mistake. She wasn't perfect (far from it), but she did care for him. All in all, I enjoyed this film and recommend it.
½
A filmed filled with failed one-liners and bad acting and horrendous camera work. The film had so much potential with the star-studded cast, but the horrible script just didn't work, not with the stereotypical characters and forced added pop culture references. It's pretty much as if you are watching Glee, the only difference is the changes of actor. Rebel Wilson did shine as an awkward side kick of the protagonist. It had a good idea, if only someone else other than Colfer himself wrote the script, there might be a better product.
Sylvester Kuo
Super Reviewer
Struck by Lightning Quotes
| | |
| --- | --- |
| Grandma: | Sometimes a personal rain cloud, can be deadly. |
| | |
| --- | --- |
| Malerie Baggs: | Carson, Are we friends? |
| Carson Phillips: | I think we're best friends, Malerie. |
| Malerie Baggs: | Cool. |
| | |
| --- | --- |
| Claire Mathews: | Oh Carson, you always thought you were so much better than us because we all couldn't stand you but get ready for pure hatred coming your way because as soon as the rest of the school finds out about this and they tell their parents, the entire town will actually hate you! |
| Carson Phillips: | ALRIGHT, ENOUGH! ALRIGHT!? I didn't just stand up for myself in there, I was standing up for all of you! The minute you guys walked onto this campus, you were labelled as high school royalty and you would rather maintain that label then heaven forbid stand up for yourselves! But high school ends! And for your sakes, I hope you guys aren't the walking cliches everyone thinks you are 'cause life is going to walk all over you - it's going to bite you in the ass! |
| | |
| --- | --- |
| April: | Your dad tells me you're quite popular at school. |
Discussion Forum
Discuss Struck by Lightning on our Movie forum!