Sun Don't Shine
(2013)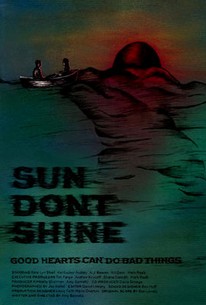 Movie Info
Written and directed by actress/filmmaker Amy Seimetz (Tiny Furniture, Upstream Color and Pit Stop), Sun Don't Shine follows Crystal (Kate Lyn Sheil) and her boyfriend Leo (Kentucker Audley) on a tense and mysterious road trip through the desolate yet hauntingly beautiful landscape of central Florida. From the outset, the purpose of their journey is unclear, and the motivations behind their heated altercations and shady errands are hazy, but sporadic moments of tenderness illuminate the loving bond between the two that exists underneath their overt tensions. As the couple travels up the Gulf Coast past an endless panorama of mangrove fields, trailer parks, and cookie-cutter housing developments, the disturbing details of their excursion gradually begin to emerge, revealing Crystal's sinister past and the couple's troubling future. Filmed on location in the environs of Seimetz's hometown of St. Petersburg, Florida, Sun Don't Shine is a subtly cryptic story driven by the powerful performances of its lead actors and its eerily poetic setting. (c) Factory25
News & Interviews for Sun Don't Shine
Critic Reviews for Sun Don't Shine
Audience Reviews for Sun Don't Shine
½
This is the feature directorial debut of actress Amy Seimetz, and while it doesn't quite go all the way, it demonstrates an interesting sense of style and a firm handle on expressing an inner world on film.
Lee Mayo
Indie darling Amy Seimetz writes and directs this obscure little film about a tense road trip between two lovers as they travel along the Gulf coast of Florida. The purpose of their journey is unclear but it is apparent that Crystal (Kate Lyn Sheil - You're Next) is growing increasingly fearful that Leo (Kentucker Audley - The Sacrament) is going to leave her in the near future for any number of reasons the audience begins to discern. The movie is not one for mass audiences as little action occurs onscreen until near the film's end. Up until then, the film focuses on mood and emotion as the situation the characters find themselves in slowly unravels as Crystal's fragile psychological state may prove to be their undoing. The actors are quite strong here as Audley's desperation and growing frustration is palpable as his Leo tries to calm Sheil's contemptible and clingy Crystal who is slowly checking out of reality. Sheil is either a great actress or one I cannot stomach as few characters have annoyed me so onscreen in the past. Seimetz proves to be a talent behind the camera here and I hope she is given more chances to further a blossoming career. I'm hopeful for her but as for Crystal and Leo -- hope is fading faster than a setting sunset.
Thomas Williams
'Sun Don't Shine'. Highly combustible characters and tension that escalates nicely. Amy Seimetz is a talented gal! Sound design rocks too.
Sun Don't Shine Quotes
There are no approved quotes yet for this movie.
Discussion Forum
Discuss Sun Don't Shine on our Movie forum!