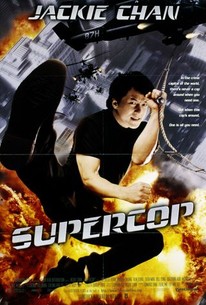 Supercop
1992, Action, 1h 31m
53 Reviews
25,000+ Ratings
What to know
critics consensus
Blending hand-to-hand combat with breathtaking stunts and slapstick comedy, Supercop reminds us why Jackie Chan is one of the world's great entertainers. Read critic reviews
Rate And Review
Movie Info
To infiltrate a drug cartel, police Inspector Chan Ka Kui (Jackie Chan) goes undercover in a Chinese prison. There, he earns the trust of Panther (Yuen Wah), a cartel member, by breaking him out of prison. With the help of another undercover agent (Michelle Yeaoh), they travel to Hong Kong and join up with Panther's gang. Ka Kui is accepted by the gang's leader (Ken Tsang), but his operation is jeopardized when Ka Kui's girlfriend (Maggie Cheung) accidentally reveals his true identity.
News & Interviews for Supercop
Audience Reviews for Supercop
I think I may have seen the wrong movie, because this one has a near perfect score on RottenTomatoes. Of course, that's not to say that each review is glowing, or praising, the film, but I was a little disappointed by this. Not because of the reviews, as I rarely ever let my opinion be influenced by reviews I may have read prior to watching a film. I know that the Police Story series, this is actually the third installment in the series, was a more straightforward action film than Jackie Chan's martial arts films, so his martial arts stunts were obviously toned down a lot. They're still there, but it's considerably less than normal. It's to the point that Jackie, nor his team, though I'm sure had some contributions, are even credited for the action choreography. I don't know the guy, but I get the impression that Chan is a perfectionist and the fact that he didn't have full creative control over the action sequences, again, I think he had contributions, must have eaten away at him in a sense. Or maybe he was incredibly happy to let someone else take control, who knows? The point is that, while the film features some pretty crazy stunts, it's not the craziest, or best, Jackie Chan film out there. While the movie does have a bit of slapstick humor, as Jackie is just as influenced by Buster Keaton, and his daredevil ways, as he is influenced by Bruce Lee...but, again, there's less doses of it. Because of that lack of humor, it's made even more obvious how laughably bad and cheesy the story really is. This wouldn't be out of place in any low-tier DTV action film starring D-list action stars. The stunts are a little better and more over-the-top than they would be in these films, but the story sure does leave a lot to be desired with its execution. It did make me laugh, so that has to count for something. Don't get me wrong, the action is actually pretty damn good, it's just not my type of action. Certainly not the action I enjoy seeing from Jackie Chan, still...there's plenty of shootouts and chase sequences to satisfy even the most jaded action fan. Michelle Yeoh makes for a great addition as her chemistry with Jackie is noticeable right from the start, even if I watched the dubbed version. Michelle Yeoh is definitely the highlight of the film and she was incredibly game for the stunts. It isn't that bad of a fall, but she falls off the car during the car chase in one of the takes, you see this in the bloopers. It honestly isn't even that bad of a fall, but considering how bad it could've been if even the slightest bit went wrong, then she was certainly very lucky. Jackie almost fell off a moving train in the climactic sequence, another attempt by Jackie to kill himself. When he's also hanging from the helicopter ladder as the actual thing is flying high over Hong Kong. I'm sure there were safety measures taken, but it's still madness. This is one of those movies that should only be watched for the action, though the story will certainly entertain you with how cheesy it is. The dubbing kinda sucks as well, but that is to be expected. With that said, this is still a solid movie. Not even close to being the best movie Jackie's been involved in, but far from the worst. Still, a good watch if you have Netflix.

One of the better Jackie Chan movies. Supercop has some cool stunts, but by far the best scenes are the gunfights, since they mix both gunplay and martial arts. The story has some plot holes, but it remains pretty strong...and honestly the story/plot development are always a problem for Jackie Chan films. So, whenever one of his films can retain a stable, good storyline, it's usually pretty entertaining.

One the Jackie Chan Movies I hate to say it bored me

Depending on your whereabouts in the world, this film may go under any one of the following titles: Supercop 2 (USA), Once a Cop, Police Story 3 Part 2, Police Story 4: Project S, Police Story V, Project S (UK), Supercop (also UK). Whatever the title, do not be fooled into thinking that this is a Jackie Chan film; yes, he does appear in the movie, but only briefly and in a scene that has absolutely nothing to do with the rest of the film. Michelle Yeoh, however, plays the same character as she did in Police Story 3 (which was known as Supercop in the US and did star JC?are you keeping up?), a hard-as-nails mainland Chinese cop named Yang. She is called to Hong Kong to lend her expertise and assist in the apprehension of a gang of Chinese criminals who are pulling heists right left and centre and peeing-off the local cops. The police operations are going swimmingly until Yang recognises one of the criminals as Cheng Feng, her boyfriend from China who left for HK to find his fortune, and the two become reacquainted under somewhat difficult circumstances. With a decidedly routine plot, Project S needed to be something special in the action department in order to compensate, but despite some cracking fight action towards the end, there is far too much quiet time spent between bouts. The action is also geared towards gun-play rather than martial arts, so those expecting a full on fight-fest will be disappointed. That is not to say that Yeoh and co-stars don't display some wonderful skills from time to time; the high kicking action is pretty good when it happens?it just doesn't happen often enough. The final half an hour, which has the gang attempt a daring bank robbery, offers the best dose of action, with Yang going up against a foe twice her size (and kicking ass, of course!). Director Stanley Tong and star Michelle Yeoh have both made far better films than this, but if your expectations are not set too high, you may find Project S a reasonable way to spend your time (although 105 minutes was a tad too long for me!).
See Details