Switchback
(1997)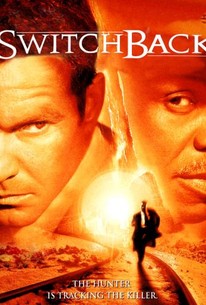 Movie Info
Screenwriter Jeb Stuart (Die Hard) made his directorial debut with this action thriller about a Philadelphia FBI agent who decides to stop tracking an elusive serial killer. However, the agent soon has a powerful incentive to resume the chase: the killer kidnaps his son. The pursuit continues through the American Southwest where some scenes were filmed at an altitude of 10,000 feet in Red Cliff, Colorado. Working titles: Going West in America and Going West.
People Who Like this movie also like
News & Interviews for Switchback
Critic Reviews for Switchback
Audience Reviews for Switchback
Unfairly maligned and under appreciated, Swtichback is a very good suspense thriller, and an especially fine entry into the serial killer genre. The film is bolstered by a strong ensemble cast, headlined by Danny Glover, Dennis Quaid, and the underrated R. Lee Ermy. The film itself is smartly written (save for some of the last act), and does an excellent job of creating atmosphere and a sustained sense of tension. 4/5 Stars
Jeffrey Meyers
Super Reviewer
The hunter became the hunted.
½
[img]http://www.tendreams.org/olbinski/Manon%20Lescaut%20a.jpg[/img] There are many things said in the world that really ought to have been said by somebody else. Meaning is twisted when I discover from whose mouth a particular phrase was hatched, for better or worse. Some words are so alive and wise, almost a separate entity now that they have been spoken or written. The person automatically becomes different, either qualifying for an upgrade or downgrade in intelligent perception. And either these words and its sayer are frolicking in harmony with each other, or they diametrically oppose and form a paradox of meaning. Basically, a 'what the hell' person. "You just don't know enough about these people to assume their actions and words do not align with their selves." Horsefeathers. What kind of logic is that anyway? What part of "I just know, okay?" do you not understand? ...I'm talking to a quoted phrase. Yeah, it's late. But one thing remains the same: some people do not deserve the words they say. Like Shakespeare. When I found out that "You offend your lungs for speaking so loud" was originally said by that dude over 400 years ago, I was devastated. My 2nd grade teacher, Mrs. Seanor, owned that verse up until "Mr. History Book" freakin' waltzed right onto the scene, dispensing 'facts' like a drug dealer on a schoolyard and blowing kiddies' minds with The Truth. Felt like my lungs were offended via punching. Well, not really. I just wanted to include a lung-punching in this bloodless entry for some reason. *gash* But I have a solution to these apparent contradictions. The who's and the what's need to take opposing sides, like a game of Red Rover, and I should decide who gets to do and say what with neat little lines drawn connecting it all. Completely, utterly reasonable. It will make perfect sense when connected. A sublime, heavenly, 100 per cent non-perishable kind of perfect sense. "Well 'perfect sense' is highly subjective, and is something hardly perceivable by individuals greatly lacking in it." What is this, a consensus? Stupid double-quoted counterpoints. But since I'm only part-jerk, I shall suffer minor internal conflict and illustrate for you examples of what anybody considers 'perfect sense' (an original phrase by me), and ye all shall understand more clearly when I can organize these concepts, shuffle history and collective personality up a bit, and re-deal a new more sensible existence. Right, so..."perfect sense": giraffes entropy pop rocks tesseracts "Twin Peaks" fractals Michael Jackson avante garde women poop life writing while half asleep (now) writing while full asleep (soon) this entry (by association) ... And [url="http://www.rottentomatoes.com/vine/showthread.php?t=476008"][size=4]this[/size][/url]. Perfection. Right there, baby. Okay, so...click it. Come on, click! I know you smell what I smell, too. A good kinda smell, one that twirls your nose hairs in loops and your mind in a bowtie when you sniff it. And it's not that dog fart. It's a smell of ancient time...and of fresh margarita! Come on in, it's my 20,000th post party! And it smells!
Neum Daddy
Super Reviewer
Switchback Quotes
There are no approved quotes yet for this movie.