Tarzan Escapes
(1936)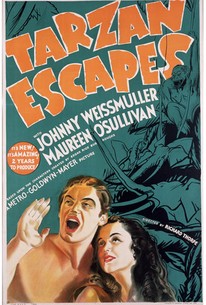 Movie Info
Produced under the working title The Capture of Tarzan, Tarzan Escapes was completely refilmed before release, eviscerating several blood-curdling sequences involving killer pygmies, torture murders and vampire bats. Wearing considerably more clothing than in 1934's Tarzan and His Mate, Tarzan (Johnny Weissmuller) and Jane (Maureen O'Sullivan) have taken up residence in their gadget-laden treehouse, replete with animal-powered elevator. Two of Jane's British relatives (Benita Hume and Willam Henry) come calling, together with an underhanded hunter (Hugh Buckler) who plans to kidnap Tarzan and put him on display in London. The Lord of the Jungle is briefly subdued, but escapes just in time to rescue Jane and her family from hostile natives, who practice the jolly ritual of spread-eagling their victims between two bent trees, then splitting the unfortunates in two (a harrowing but tastefully filmed sequence, later excerpted in 1941's Tarzan's Secret Treasure). Other than this grisly finale, Tarzan Escapes was strictly family fare. The familial aspects of the film extended into the film's credits; among the screenwriters were John Farrow, husband of leading lady Maureen O'Sullivan, and Cyril Hume, brother of supporting actress Benita Hume. ~ Hal Erickson, Rovi
News & Interviews for Tarzan Escapes
Critic Reviews for Tarzan Escapes
Audience Reviews for Tarzan Escapes
the last of the 'good' tarzans plus I've seee Spanish movie poster Tarzan Escapo! which I thought was way cooler than US version.
Greg Wood
The third Johnny Weissmuller Tarzan movie is one of the worst. This was a rehash of the first two movies. Sometimes they used the same of leftover footage. The plot of the movie is that Jane's cousins come to Africa to find her and bring her back to clam her inheritance. They hire a evil safari guide to take them to Tarzan. He brings a steel cage to capture Tarzan and bring him back to civilization. In order to get there they have to get past a tribe of evil black natives. All the African natives in Tarzan movies are either fearful porters used as human pack animals or savage hostiles killing everyone they come in contact with. When they find Tarzan and Jane, they are living in a tree house with an elephant powered elevator and a dining table with dishes and utensils. When they tell Jane why they came, Tarzan turns into a pussy whipped wimp. At some point Tarzan lets himself get locked in the steel cage. Everyone gets captured by the evil natives and Tarzan is freed by a couple of elephants. Tarzan rescues Jane with an elephant stampede. When I was a kid they showed all these Tarzan movies on Saturday afternoon TV and I watched all of them. I don't remember this one, probably because everything in this movie is a repeat of the first two movies. The only time Tarzan fights a wild animal is when he fights a crocodile to save a fawn. But it was just the same fight they filmed for Tarzan and His Mate. Then at the end of the movie Jane's cousins decide, "Oh, you don't have to come back to England. We just need your signature."
Donald White
A good follow-up to the first Weissmuller/Tarzan film. The jungle love heats up, the cute critters get cuter, and man, are those native henchmen ever expendable. Every time you see a caravan treking over any mountain or cliff, you can be sure that someone is going to plunge to their death.
Scott Schirmer
Tarzan Escapes Quotes
There are no approved quotes yet for this movie.
Discussion Forum
Discuss Tarzan Escapes on our Movie forum!