Teddy Bear
(2012)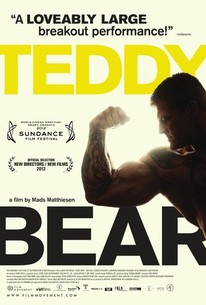 Movie Info
The 38-year-old bodybuilder Dennis would really like to find true love. He has never had a girlfriend and lives alone with his mother in a suburb of Copenhagen. When his uncle marries a girl from Thailand, Dennis decides to try his own luck on a trip to Pattaya, as it seems that love is easier to find in Thailand. He knows that his mother would never accept another woman in his life, so he lies and tells her that he is going to Germany. Dennis has never been out traveling before and the hectic Pattaya is a huge cultural shock for him. The intrusive Thai girls give big bruises to Dennis' naive picture of what love should be like, and he is about to lose hope when he unexpectedly meets the Thai woman of his dreams. -- (C) Film Movement
News & Interviews for Teddy Bear
Critic Reviews for Teddy Bear
Audience Reviews for Teddy Bear
½
I really enjoyed this movie, it is understated and gentle with a really likable performance from Kim Kold as this giant bodybuilder who's just trying to break free from his domineering mother who guilt trips him into taking care of her even if it means destroying Dennis' chance at creating his life and achieving happiness on his own. What's great about the performance, at least from Dennis' mother, is that she's not over the top, her manipulation is far more subtle and therefore that makes her more effective as a character since she plays the character in a believable manner. And that's the strength of the film, the fact that a lot of the actors cast were pretty much unknown adds believability to the proceedings. As mentioned Kim Kold is has a very likable presence and he does a great job at carrying the film, especially for someone who is as inexperienced as he was at acting. While the character is very much a teddy bear, I think the character isn't as simple as that, he's far more complex at least in the way how he leads a sheltered life as to not upset his mother. A lot of people may not like the movie because it may be slow and when you watch the film it doesn't seem like a lot happened, but I found it interesting and it has some really good storytelling but, again, it's more subtle and understated. It's still a very sweet and gentle story, but it doesn't beat you over the head with it. The movie could've used more comedy, but that's hardly a complaint. I really enjoyed this movie, it isn't perfect but it is damn good.
Jesse Ortega
Super Reviewer
½
"Teddy Bear" is a good film but not a great one. It was made in Denmark by Mads Matthiesen and stars real-life bodybuilder Kim Kold. It is the first feature film for both Matthiesen and Kold, telling the story of a man approaching age 40 but still trying to break free from the domineering power of his mother. The most striking thing about the film is the contrast between the main character's physical power -- he truly looks like The Hulk -- and his emotional powerlessness. I very much liked this study in contrasts and the examination of contradictions that often come with hyper-masculinity. I also liked the hints at the end of why the mother and son are so deeply bonded. I won't reveal the surprises. I'll just say that the man's devotion to his mother appears more comprehensible in the end. But "Teddy Bear" never really takes your breath away. It's absolutely competent but not much more than that.
William Dunmyer
Super Reviewer
Teddy Bear Quotes
There are no approved quotes yet for this movie.