Tees Maar Khan
(2010)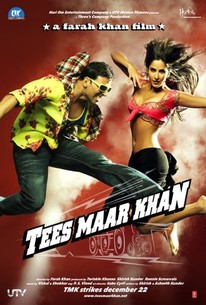 Movie Info
Once in a blue moon a great criminal is born. He is fearless, careless and shameless! He steals, cons, cheats and gets away with it.He is TEES MAAR KHAN. TMK and his gang - Dollar, Soda and Burger - have managed to keep the police the world over on their toes. Then one fine day, international antique smugglers, the Johri Brothers, assign Tees Maar Khan the biggest con of his life -- rob antiques worth 500 crore rupees from a heavily guarded moving train. Will Khan and his merry gang with some unwitting support from his wannabe-actress girlfriend, Anya and a greedy Bollywood superstar be able to pull of this heist and live off the proceeds of their ill gotten gains for the rest of their days? -- (C) UTV
Critic Reviews for Tees Maar Khan
Audience Reviews for Tees Maar Khan
½
Farah Khan adds a lot of spunk and flamboyance into Tees Maar Khan, but it only goes so far.
The plot at the high level involves a professional con man stealing a large quantity of antiques from the police. The problem is that very little time is spent on that. The first half an hour is used to build up a couple major characters, and from then on the film meanders to the final 30 minutes, which is where the story actually finds some sympathy and emotion.
The musical pieces are somewhat catchy and the dance choreography and sets are always colorful, but these shouldn't be the reason to watch this picture. The opening and closing credits are worthy of note.
The characters are lively, over the top, and this definitely helps keep the film afloat when the story is lacking. Akshay Kumar is a good lead con man. Akshaye Khanna, while only playing a supporting role, turns out to be more amusing than Kumar. The beautiful Katrina Kaif is eye candy, but unfortunately that is all she contributes to this picture. Both, her character and performance are forgettable.
When the 130 minutes are up, Tees Maar Khan just gets by. Watch it and move on.
Tees Maar Khan s an 2010 Hindi action comedy film directed by Farah Khan, starring Akshay Kumar, Katrina Kaif and Akshaye Khanna in the lead roles. Anil Kapoor and Salman Khan make a special appearances in the film as well. Tees Maar Khan revolves around an overconfident conman named Tabrez Khan (Akshay Kumar) who has been a criminal from birth. (Yeah you read that correctly, he stole the doctor's watch and nurse's chain on the birthing table) Tabrez is a thief who is capable of opening any lock in the world, be it on a flying plane or a running train. The story revolves around how he undertakes a job to rob a train containing millions of dollars worth in precious antiques. Tabrez's love interest is played by Katrina Kaif as Anya Khan who nails her bimbotic airhead role to perfection. Not my cup of tea. It all looked like a lot of goofing around was captured in a camera and eventually put together as a movie. One of my friends took part in a Bollywood Competition and Sheila Ki Jawani was her talent piece so truth be told I just watched this movie for the song. (and Katrina oozes sensuousness in the video.)
Tees Maar Khan Quotes
There are no approved quotes yet for this movie.