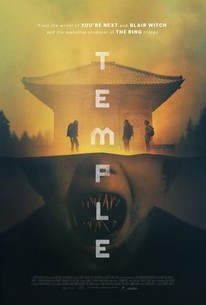 Temple
2017, Horror/Mystery & thriller, 1h 18m
11 Reviews
100+ Ratings
Where to watch
Rent/buy
Subscription
Subscription
Rent/buy
Rate And Review
Movie Info
Three American tourists use a mysterious map to find an ancient temple deep in the jungles of Japan. Their adventure soon turns into a nightmare when malevolent spirits trap them inside.
Audience Reviews for Temple
This might be another day where I watch two movies, though not in as close a succession as Sharknado 5 and Kickboxer: Retaliation. That's really not important, in the slightest, as far as this review is concerned, but it is what it is. I'll be honest, the only reason I picked this movie was because I wanted to watch something that was short. Something that I could get through in under 90 minutes. Why I came to pick this movie when there's, literally, many others on Netflix that run under 90 minutes, I do not know. Don't question me! Color me surprised, however, that Simon Barrett (known for the first two VHS films and You're Next) was one of three co-writers for this film. You'd think that with, at least, someone from a distinguished horror background, that this would be a better than average film. Well, you would be wrong about that, ladies and gents. This is WAY below average. Ok, so where do we start with this little movie. I've always mentioned that you cannot blame a film's promotional material for your own lack of enjoyment from a particular movie. The fact that a film is promoted a certain way doesn't mean that, if you don't get what was promoted, that film sucks. Because the people behind the making of that movie have absolutely nothing to do with the marketing department. You have to judge what's on screen. Having said all of that, and this is just something I'm saying because I saw this from beginning to end and the movie, as you're watching it, guides into thinking it's one thing when it's another entirely. The title is inappropriate. It really should be called Third Wheel: The "Horror" Movie, complete with quotation marks and everything. Because that's what the movie's narrative focuses on. It's about the dynamic between Chris and Kate, who have been best friends for years, and James, Kate's boyfriend. They have traveled to Japan in order for Kate to look at some Japanese and Buddhist temples for her thesis, or something, I don't really give two shits. Chris is never explicit about his attraction to Kate, but you can just tell. But, firstly, we start with a good ol' frame narrative. That's where they start the story at the end, with this professor and his translator interviewing either Chris or James, whose face is disfigured to where you simply don't know who it is until the climax, about the events that transpired at the temple. This is a little absurd because, well, and this will spoil things somewhat, but the person who's being interviewed knows Japanese, so there's no actual need for a translator in the first place. I mean I guess they couldn't not have had the translator there, because it would have made the reveal a little too obvious, but it's still stupid in hindsight. It's a no-win situation, because there was no way to do either (translator and no translator) without looking stupid at the end. It is what it is. With that said, the bits with the professor interviewing the Faceless (as he is named in the captions) are sprinkled throughout the movie to, I guess, add some sort of intrigue in a movie that has very little of it. It should be mentioned that there is absolutely no chemistry between any of the leads whatsoever. Like absolutely none. Kate and Chris are supposed to have been, literally, lifelong friends like Cory and Topanga for you 90s kids and they just don't. They fail at making me feel their lifelong bond and their friendship. And this goes for James too, I just don't feel that he has any chemistry with Kate or why they would even get into a relationship with one another. And that's a problem with the casting because, quite frankly, these three were cast because they look like Abercrombie and Fitch models. It's all about casting three, young good-looking actors in your lead roles because, why the fuck not? Who values talent when you can just cast the hottest people you find, right? Perhaps that's unfair to say and it's not like the leads were horrifyingly terrible either, it's just that they weren't good and they fail at making me feel some sort of connection to them. I mean, that has to be the idea, right? You're supposed to care about these characters, so you're into whatever ordeal the narrative guides them toward. Well, be it through horrid scripting and ineffective lead actors, that just didn't pan out. You don't really give a shit about any of the characters. And it's not like they use that to then give these characters a horrifically gory death either. So you're screwed either way. This movie is just a disaster left and right. Look, the thing about this movie is that I know it's bad and so does almost everybody else. But it's not a terrible movie like The Axe Murders of Villisca is a terrible movie. It's just that nothing really happens in this movie, like at all. They spend so much time focusing on shit that I don't really care about, like the dynamic between the three lead characters instead of actually building some dread/atmosphere around its titular temple. This wants to be an American J-horror movie without the J-horror and it just doesn't work that way. I've seen many movies that leaves its horror elements for its third act, but they do so in a way where they still have the wherewithal to sprinkle bits and pieces of it here and there to not make it such a chore to watch. This movie tries to sprinkle bits and pieces of horror, but they're so ineffective and inconsistent that it makes you wonder what the point of it all was. It's not making me fear what's coming next, it's just making me want to fall asleep and never finish watching this dreadful chore of a movie. This is just a strange experience, because it's a really bad movie, but it's not actively bad. Because there's movies where just, literally, everything goes wrong. And you could definitely say that's the case for this here, but I feel that everything goes bad here by a smaller margin than, say, it does in the aforementioned Villisca movie. I don't know if that makes sense, but I feel that it does. It's just that they go right instead of turning left and that would have probably just taken a small script re-tooling to fix. It's not that difficult. But they just took this script, as is, without making any changes to fix what was obviously broken and just filmed it. It shows in the quality, or lack thereof, of this film. And the horror, oh god, the horror. It's just so fucking bland and lifeless. Creepy ghost kids without eyes, a kitsune (which is some sort of a shapeshifter) statue coming to life. That's all there is to the horror here. I was so indifferent to everything during these segments that it's a wonder that this could actually be classified as a horror movie. The horror here garnered the same reaction from me as watching paint drying does. And that reaction is complete apathy. If there sheer lack of anything interesting happening wasn't bad enough, the horror comes along and is even worse than you could anticipate. I'm giving this movie one star and, honestly, even I feel that that's being generous. But I just don't feel that this deserves the lowest rating possible and I don't really even know why. This is a very bad movie, but one that could have legitimately been very interesting, if not good, with a couple of rewrites. Shame that they didn't take more time in crafting a more intriguing movie. With that said, I really can't recommend this in the slightest. It offers nothing of value to horror fans or, really, to anyone else for that matter.

I liked it being set in Japan, and for unknowns the acting was decent, plus the Japanese cast were good, but the ending is very confusing and didn't tie up properly with a lot left unanswered. The little Japanese boy was genuinely creepy. Could have been much better than it ended up being.
See Details