Testament of Orpheus
(1960)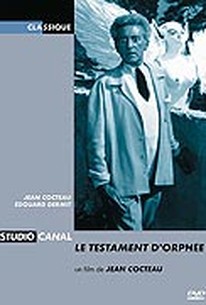 Movie Info
In his final film, Jean Cocteau brilliantly evokes memories of his past triumphs, Blood of a Poet (1930) and Orpheus (1949). Cocteau casts himself as an aging poet who knows he is dying (as indeed he was); his greatest desire is to be reborn so that he can qualify for celestial immortality. The stellar cast includes such French film favorites as Jean-Pierre Léaud, Jean Marais, and François Perier, along with Hollywood's Yul Brynner and such Cocteau friends and admirers as Pablo Picasso, singer Charles Aznavour, and bullfighter Luis Miguel Dominguen. Given the influence Cocteau's influence over the French New Wave directors of the 1950s and 1960s, it is altogether appropriate that the producer of Testament of Orpheus was François Truffaut.~ Hal Erickson, All Movie Guide
Critic Reviews for Testament of Orpheus
Audience Reviews for Testament of Orpheus
Jean Cocteau's final film of his "Orphic Trilogy" is "The Testament of Orpheus" stars Cocteau as himself trying to understand the world of an artist. Interseting film full of trick shots and mild surrealism.
Joseph Boomhower
Super Reviewer
½
"The Testament of Orpheus" is difficult to review. It has a hefty sentimental pull, being seventy-year-old Jean Cocteau's farewell to the world ("Testament" is used in the sense of "last will and testament" and, in fact, the title is sometimes translated as "Orpheus's Will"). But there's no denying that the film is pretentious, stiffly acted and cinematically dated. The movie almost defies analysis. In the opening narration, Cocteau alternatingly calls it "a striptease show where I take off my body to reveal my soul" and "a poet's legacy to the youth which has always supported him." Good enough. The frail Cocteau himself stars, initially dressed in the guise of a 18th-century nobleman. Powdered wig, long coat, frilly shirt and a riding crop. Even a snuff box. Later, he is "reborn" in contemporary wear. Much of the action takes place in what appears to be a theater's undecorated backstage area, though the ruins of an old temple become crucial later. Cocteau's persona is unstuck in time, and materializes in and out to episodically interact with various characters. Central ones include Cegeste (borrowed from the past film "Orpheus," and portrayed by the original actor), two judges who essentially put Cocteau's life on trial, some mimes dressed like horses, a camp of gypsies and a professor who apparently enabled this time travel through inventing a bullet which flies faster than light. For better or worse, the footage is loaded with Cocteau's trademark, backwards-motion illusions. This effect was innocently charming in the '40s (witness "Beauty and the Beast"), but a tad stale by 1960. Still, the trick adds some whimsical fun. A punctured, smoke-filled balloon reassembles. A burned photograph is restored. An erased blackboard sketch reappears. A draped sheet flies upward. Cegeste jumps out of the ocean, perfectly groomed. And the lengthiest example is the meticulous repair of a torn-up hibiscus flower. This blossom recurs throughout the film for enigmatic reasons, but Cegeste tells Cocteau that the flower "is made of your blood and follows your destiny." Some notable figures make uncredited cameos during the vignettes, including Brigitte Bardot (as an intellectual teen who takes notes as she dances), Jean Marais (as Oedipus), Jean-Pierre Leaud (as the professor during childhood), Charles Aznavour (just a brief onlooker), Pablo Picasso (ditto) and even then-superstar Yul Brynner (speaking fluent French as sort of a stern receptionist). The judges are played by Francois Perier and Maria Casares (also reprising their "Orpheus" roles), but their interrogation of Cocteau is so ridiculously dour that they both seem eager to burst into laughter. Once Cocteau vanishes for the last time, the film ends. "If you didn't like it, I'm sorry," he humbly adds. A few bits of wisdom from the script: "A film is a petrifying source of thought. It brings dead acts to life. It makes it possible to give apparent reality to the unreal." Definition of a poet: "A sleeping invalid dreaming [he is] healthy." A second definition: "One who, by making poems, uses a language neither alive nor dead which few people speak and few understand."
Eric Broome
Super Reviewer
Testament of Orpheus Quotes
There are no approved quotes yet for this movie.