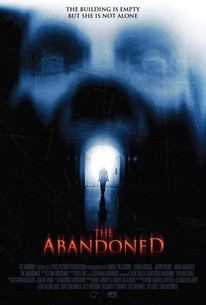 The Abandoned
2015, Horror/Mystery & thriller, 1h 28m
14 Reviews
500+ Ratings
Where to watch
Rent/buy
Rent/buy
Rate And Review
Movie Info
An unstable woman (Louisa Krause) discovers a horrifying presence in the bowels of a decaying building where she works as a security guard.
News & Interviews for The Abandoned
Audience Reviews for The Abandoned
This is a pretty decent psychological horror, if it can be referred to as the latter, with an ending that I do not know how to feel about. Part of me feels that it's really lame and cheap and part of me feels that it, somehow, fits with the story the film tells. I think I feel more like it's really cheap, because it pretty much negates everything that happened prior to that. Like what you just watched was irrelevant. Though the film does a good job at making it feel like it's part of the same movie. What I mean by that is that, usually, in films with twists for the sake of them, it ends up feeling like something from a completely different movie. In this one, at the very least, it feels like a logical next step. Not the most logical, but a logical next step to the story. With that said, it still felt really cheap and like I watched the film for nothing. I don't know if I'll spoil it yet, I guess we'll see. I don't expect this review to be very long anyway, but I thought this, for the most part, was a decently made and competent psychological horror. It tells the story of Julia, who's struggling to keep her life on track in order for her to be allowed to see her daughter again. So, to accomplish this, she takes a job as a security guard at this abandoned apartment complex. She's partnered up with this guy, Jason Patric, who ends up being kind of a dick, since he's bitter and angry at the fact that the people he's partnered up with end up quitting after a week or so. While patrolling the apartment, she starts to experience strange things, which leads her on this quest to find out the dark truth behind what happened in this hotel. Much later in the film, it is discovered that there is this shelter where orphaned children were kept in horrible conditions. We then discover that all but one of the children died as a result of drinking, I think, radioactive water. And I say I think, because they do a shit job at explaining exactly what was that happened to these kids. I assume it's radioactive water, since it had a visible effect on their skin. Or maybe they were experimented upon by the doctors hired to care for them. I have no fucking idea what happened here honestly. Like I said, they did a terrible job at explaining what went on in a coherent fashion. I guess it doesn't really matter with the way the film ends up, with the fact ***MAJOR SPOILERS*** that Julia was actually in a coma all this time and everything she experienced in the film was imagined and everything that happened and every person she met was taken from her surroundings at the hospital she was in. Everything that happened in the apartment complex was just a way for Julia to come to terms with who she really was, since she, apparently, was abandoned in this place where all the kids died. So, once Julia comes to terms with who she really is and is able to leave the apartment complex, she's able to die in peace. I don't know how you make that leap, but let's go with that. So yea, you can see how I'd feel that the 'she was in a coma the whole time', another variation of the 'it was a dream all along', might make me see it as a really cheap way out of the story. I could've come up with a better ending in 5 seconds. And it's the same ending that you would probably also come up with yourself. And that is that Julia is legitimately insane and everything that she experienced was a product of her own imagination, which is what the real ending is anyway, and she, somehow, ends up killing Cooper or causing his death. Simple and considerably better than what we got. But, again, the ending we did get still somehow fits with everything that they were trying to do, while also being a cheap way out. So it's a strange ending. The acting is fairly solid and the film does do a good job at building up suspense and atmosphere. It's not the best at it, but there's something compelling about this setting that keeps you interested in where they're heading. I can't give it a wholehearted recommendation, but it's on Netflix, so it's a perfectly harmless movie to watch. It's an average movie at best, but there's some stuff that people will enjoy about this more than I did.
See Details