The Age of Stupid
(2009)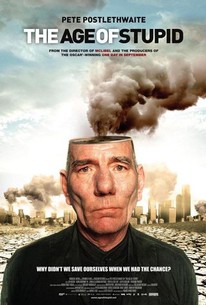 Movie Info
Oscar-nominated actor Pete Postlewaite stars in this cautionary look at our changing climate, and what could become of our world should we continue to ignore the warning signs and stop global warming while we still have the chance. The year is 2055, and in a world devastated by mankind's lack of foresight, one lone sole (Postlewaite) seeks the answer to why we let our planet fall to ruin. Looking over archive footage from the year 2007, he sees everyone talking about the damaging effects of global warming, but no one bothering to take the action required to reverse the troubling trend. ~ Jason Buchanan, Rovi
Critic Reviews for The Age of Stupid
Audience Reviews for The Age of Stupid
This passable documentary (one of many alike), presented partly as fiction and with many interviews, is not too consistent but offers some interesting material, prompting us to realize the most probable result of our careless, destructive ways.
Carlos Magalhães
Super Reviewer
½
"The Age of Stupid" is a tragically uneven documentary about global warming that fails, but not for want of trying. It takes an intriguing approach by looking back from 2055 where an archivist(Pete Postlethwaite), who instead of looking through the porn cache, decides to depress himself even further by reliving the events that led up to humanity's doom when the environment collapsed. Ironically, the movie is dated while the idea of humanity building a giant archive while not being able to save itself is a little strange to say the least. While I applaud the global approach, the choice of material seems a little off, as all of it is centered around oil, not global warming. And if one were of a certain thinking, one could also possibly argue that Hurricane Katrina was a fluke storm. Yes, global warming is a given, but one of my problems with its activism is that it concentrates solely on the future while ignoring environmental catastrophes in the present, like the heartbreaking images from Nigeria. Like I have said before, the second war in Iraq had nothing to do with oil. The low cost airline in India makes sense to some in a poor, large country whereas others see any kind of flying as disastrous to the environment but the documentary makes no mention of high speed rail proposals. The same fears could be said about factories in China, but it has been revealed recently that sulfur emissions from China have actually slowed down global warming. Wind farms, which I find beautiful, seem like a totally sensible suggestion but they face tough fights in the film in England, as they also do here in the States. So, why not give the people a choice between wind turbines or nuclear power plants or offshore drilling? Whatever you do, do not listen to the old guy who remembers walking six miles in the snow barefoot to get to school everyday. Mass consumerism and the car culture have been going on for generations. So, not only do you have to challenge people's ways of thinking but also what they had been taught by their parents. I'm not saying it's not possible because I ride mass transit and ride trains instead of airplanes. In the end, "The Age of Stupid" might change my thinking about power usage while its suggestion of energy rationing is probably the way to go for the future.
½
The problem I have with these environmentalists is that they are hawking so much doom and gloom with all of their "the end is neigh" squawks that you end up thinking the only solution is to go back to the stone age. Yes, give us the science, give us the facts, but then focus on just a tiny couple of changes that will make the biggest difference in the next few important years - don't attack every aspect of our consumerist lifestyle even though we know it's wrong! I also thought pin-pointing the low-cost Indian airline as the root of evil was wrong as the same documentary talked about how developing countries actually need to increase their energy usage whilst developed countries cut back.
Ross Collins
Super Reviewer
The Age of Stupid Quotes
There are no approved quotes yet for this movie.