The Be All and End All
(2009)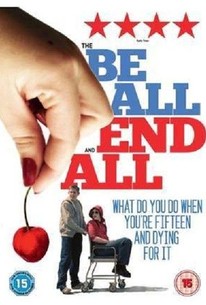 The Be All and End All Photos
Movie Info
In this British comedy-drama, Robbie (Josh Bolt) and Ziggy (Eugene Byrne) are two fifteen-year-old boys growing up in Liverpool who are best friends. They're also both virgins, and like most boys their age they have sex on the brain and want nothing more than to find a willing girlfriend. When a disastrous evening out with a cute girl and a bottle of booze leaves Robbie feeling terribly sick, Ziggy learns his pal has more than just a hangover -- he's been diagnosed with a serious heart condition and is not likely to live more than a few months. Ziggy wants to do something for his best friend, so Robbie gives him a final request -- find a girl willing to sleep with him so he won't die a virgin. While Ziggy takes this matter seriously, he can't find a date for himself, and getting one for a pal with a terminal illness is a lot more difficult. As Ziggy tries to find a gal interested in this mission of mercy, he learns more about the difficult relationship between Robbie's parents and the impact it has had on his friend; meanwhile, Tina (Liza Tarbuck), a nurse looking after Robbie at the hospital, learns about Ziggy's project and wonders just how much Robbie should be allowed to get away with. The Be All And End All was the first theatrical feature from director Bruce Webb.
Critic Reviews for The Be All and End All
Audience Reviews
There are no featured reviews for The Be All and End All at this time.
The Be All and End All Quotes
There are no approved quotes yet for this movie.