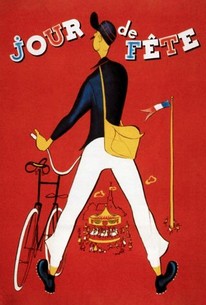 Jour de Fete
1949, Comedy, 1h 20m
23 Reviews
2,500+ Ratings
Where to watch
Rent/buy
Rent/buy
Rate And Review
Movie Info
In a small French town, the local postman, scatterbrained and bumbling François (Jacques Tati), spends his working hours casually delivering the mail, while being the subject of the townsfolk's teasing. When a traveling carnival arrives in town, a drunken François is goaded into watching a film depicting the efficiency of the U.S. Postal Service. Inspired by the footage, the hapless François sets out on his bicycle to become just like the mail carriers in the United States.
News & Interviews for Jour de Fete
Audience Reviews for Jour de Fete
This was a different kind of comedy, I'm not sure how to describe it, really. Problem was, it's not very funny. It was sort of quirky in a very old fashioned kind of way. It felt a lot older than it was even.

Comedy legend Jacques Tati directs, co-writes and stars in this charming look at a guileless postman bicycling his rounds in a small French village. The film is near plotless, unless you count a late section where Tati's character Francois sees a newsreel about American postal efficiency and strains to accelerate his own work in reply. (This final act is wholly recycled from Tati's 1947 short "School for Postmen.") The laughs depend on sight gags, lightly presented but carefully choreographed, and Francois doesn't speak much. When he does, he adopts a self-involved, thinking-out-loud mutter that barely calls for a response. Chickens, who cackle throughout the film with perverse consistency, arguably have more lines than any human. Francois's bike -- which frequently gets away from him -- accounts for a large chunk of the humor and the rest revolves around his interaction with the playful townsfolk, who alternately cheer on his diligence or try to throw him off course. (Learn to say no to alcohol, Francois!) The lack of story is somewhat wearying, but the film's brisk 79 minutes pass before this becomes a serious problem. "Jour de Fete" was simultaneously shot in both color and black-and-white, and the latter version was the standard for years. However, a restored color edit was finally released in 1995. Given the subtlety of the film's visual humor, it's possible that some jokes are easier to pick up in color. So, don't worry about the ethics of "colorization."
See Details