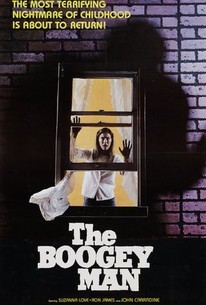 The Boogey Man
1980, Horror, 1h 26m
8 Reviews
5,000+ Ratings
Rate And Review
Movie Info
A young woman (Suzanna Love) is haunted by a piece of broken mirror possessed by the spirit of her mother's lover.
Audience Reviews for The Boogey Man
Well for this will be the last American or horror I review for a while because I would rather move onto something different something more like Akira Kurosawa films or really anything that I have seen that comes out of were I live. So the reason for me seeing this that Vamp Reilly calls Ulli Lemmel the worst director ever but I had never seen a film by him so I decide to watch just a few but I only got throw 2 and a half of his movies there just terrible. So I watched The Zodiac killer, The raven, Zombie nation and the boogeyman so that's what I am reviewing. Despite me thinking it was average I liked it more then the others and I don't think I will be seeing another film by him anytime soon. So the film is all about a mirror and the starting scene was so brutal two kids are beaten by there mums boyfriend and it just get's really disturbing from there. So one of them dies and the girl grows up to be successful women but her past keeps coming back to her. She keeps seeing herself get beaten and god knows what. So her husbent takes her to the house she grow up in to show her there's nothing that can hurt you anymore but a really old mirror in her brothers room tells a different story. Sometime later something brakes out of the mirror and starts murdering people and that's really much the whole films story. The film has really has a lot of murders of teenagers and people to teens are having a good time talking then the mirrors shard brakes off and some guy out of nowhere butchers them with a pitchfork. The story can be extremely confusing sometimes. The acting is really and one of the only great parts about this movie and also I have to say but the window scene really did scare me but that's about it for frights. The film has like a ton of gore and violence that any horror fan would love and it looks really realistic for a movie like this. And this could have been a pretty solid horror movie but directed Ulli Lemmel directed this LOL. But that's all I can really say about this film I really only recommended it to you if you love horror films. And also I am not going to write reviews for a while because I need to adapt my own way of writing them not just steal the way Jesse does it. Keiko's score 42-100

Not being a horror film watcher I am not sure if this is standard, but this was really bad. Darth Vader's ghost attacking random people really doesn't make any sense.

"The Boogeyman" is a peculiar little horror movie that mixed "Halloween", "Amityville Horror" and "The Exorcist". The plot was stupid, the acting terrible, illogical script, the cutting extremely bad, the pace is slow and feels dragged. The only positive element in the film are the murder scenes. This is e bad and dull film that gained notoriety by being black listed in England as a video nasty otherwise it just had disappeared.
See Details