The Chameleon
(2011)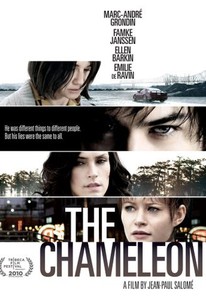 Movie Info
A family welcomes home a missing child, but he may not be all he seems to be in this suspense drama. Nicholas Barclay was a 13-year-old living in Louisiana with his family when he mysteriously disappeared, and though his mother, Kimberly (Ellen Barkin), and sister, Kathy (Emilie de Ravin), have been hopeful he'll be found, after three years it seems increasingly unlikely. To their surprise, Nicholas (Marc-André Grondin) returns home one day, claiming he'd been kidnapped by child predators but finally escaped. Kimberly and Kathy are overjoyed and welcome him home with open arms. Nicholas' brother-in-law, Brian (Brian Geraghty), senses this young man isn't really Nicholas, though, and Jennifer Johnson (Famke Janssen), an FBI agent looking into the case, shares his suspicions. But if Brian and Jennifer are convinced Nicholas is an imposter, why aren't Kimberly and Kathy willing to acknowledge the same evidence? Based on a true story, The Chameleon was the first English-language feature from French director Jean-Paul Salomé. ~ Mark Deming, Rovi
Critic Reviews for The Chameleon
Audience Reviews for The Chameleon
½
Low budget, not too shabby story elaborating on true events. This was based on a truly weird real-life character..a boy/man who takes on the identity of numerous people over and over again in seach of love. This movie is telling the story of a family that accepted him, even though it was clear he was an imposter. The reasons why, however, is the basis of this movie. Ellen Barkin delivers a good performance, and the rest of the cast is also rather decent.
Cynthia S.
Super Reviewer
In theory, this sounds like such a good movie, but I was really disappointed with it. There was really no depth to "Nicholas" or the family themselves. It could have been so much better.
Sarah Prisbylla
Super Reviewer
From the start, I had a hard time latching on to the main character and not because of great writing or directing, but because the actor was simply not believable. Most characters in this film act without instinct or drive, delivering spoon-fed dialogue for no apparent reason but to progress the plot. The Chameleon not only screams melo-drama but lacks any sort of mystery or suspense, feeling glossed over and unwatchable at times. Had the writers given this more time, I feel a much better story could have developed, but instead we are left with a film screaming "made-for-TV-movie" or "Lifetime-original drama".
Christopher Haskell
Super Reviewer
The Chameleon Quotes
There are no approved quotes yet for this movie.